---
Cultural Spotlight
An Ode to Auditory Oddities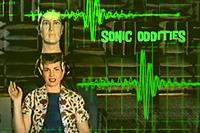 At Miami's O Cinema in Wynwood, MDC recently presented 'Sonic Oddities', a compilation of offbeat archival, historical and experimental short films.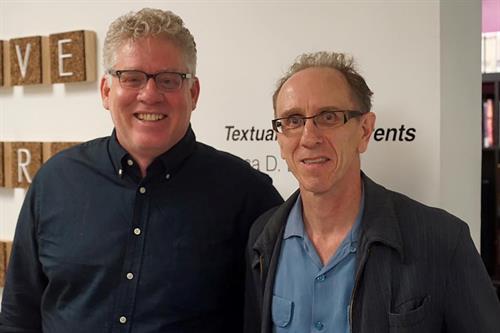 At the screening were, from left, Wolfson Archives Director René Ramos and filmmaker/curator Stephen Parr, of Oddball Films in San Francisco.
A two-hour trek through the auditory oddities of film history recently was presented at Miami's O Cinema Wynwood thanks to the collaborative effort of MDC's Lynn and Louis Wolfson II Florida Moving Image Archives and Obsolete Media Miami (O.M.M.).
The delightfully quirky show featured Sonic Oddities, a compilation of offbeat archival, historical and experimental short films from Wolfson Archives' treasure trove along with those of curator/filmmaker Stephen Parr, who himself has more than 50,000 works in his Oddball Films collection in San Francisco. The shorts ranged from Philip Stapp's First Americans and Their Gods, an animated short featuring distinctive visuals and an eerie score to The Media and the Military, in which jar-headed GIs listen to Shakespeare and beatnik poetry in a San Francisco classroom.
The program included beauty queen Anita Bryant singing the praises of orange juice in the Florida Sunshine Tree and Queer Birds, one of the most bizarre, endearing cold-war animated shorts in the Oddball library.
"Parr's archives show how rich and strange film history can be," said Wolfson Archives Director René Ramos.
A highlight of the screening was Miami Beach: The Great American Resort, selected from the Wolfson Archives' Eastern Airlines Collection. Set to a jazzy '70s pop score, the wordless, 13-minute piece celebrated Miami Beach and its unique charms.
The free event was presented with the support of the Miami-Dade County Department of Cultural Affairs and the Cultural Affairs Council, the Miami-Dade County Mayor and Board of County Commissioners.
More Cultural Spotlight Articles