---
Features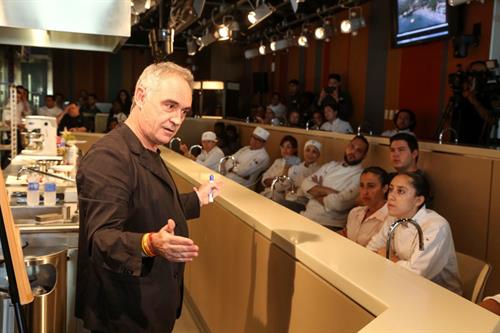 Top Chefs at MDC
Miami Dade College welcomed the world's most award-winning chef last month when Ferran Adrià visited Miami Dade College to headline the Estrella Damm U.S. Gastronomy Congress alongside other renowned chefs from around the globe.
Culinary enthusiasts and the who's who of South Florida chefs flocked to MDC to hear Adrià, who rose to fame as the head chef of elBulli, a three-star Michelin restaurant that has been rated No. 1 among the world's best restaurants for a record five times. He now runs elBullifoundation, a culinary think tank. Adrià spoke to a crowd of several hundred at the College's Chapman Conference Center on "The Changing Face of Modern Gastronomy."
The event's impressive lineup of chefs also included Lluís Garcia, director of the elBullifoundation and former elBulli restaurant director; Fran Agudo, head chef at Michelin star-rated Tickets Bar in Barcelona; David Gil, creative pastry chef for Albert Adriá's restaurants in Barcelona; and Diego Muñoz, head chef at Astrid y Gastón in Lima.
Adrià also gave an inspiring speech to MDC students at Miami Culinary Institute (MCI), in which he talked about the importance of innovation and thrilled students with the chance to meet their culinary idol. Event presenter Estrella Damm also presented a $5,000 scholarship to MCI.
More Features Articles