---
Features
Startup Challenge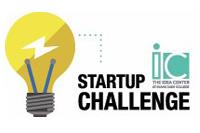 Start-up business concept in flat design style.
Student entrepreneurs are competing for their chance to win funding for innovative business ventures in the second edition of The Startup Challenge.
More than 100 teams have entered the competition, which challenged students from all disciplines and campuses to come up with a creative business idea and submit it through a 60-second video pitch. The most innovative, viable proposals will be selected to proceed to the next round, where they will receive support and mentoring to help refine their startup ideas.
Final stages of the competition will involve creating compelling business plans and prototypes to present to a panel of judges, who will select winners for the $5,000 grand prize and second- and third-place cash prizes to be used as seed money for their new ventures.
Among the inspired ideas submitted is a device used to help people walk, sit, stand and avoid falling when standing. Constructed from parts made with a 3-D printer, it would be more affordable than other robotic exoskeletons currently on the market. Other ideas include a homemade brownie business and a beach cooler designed to be easily pulled across the sand and up stairs.
More Features Articles