---
Making Their Mark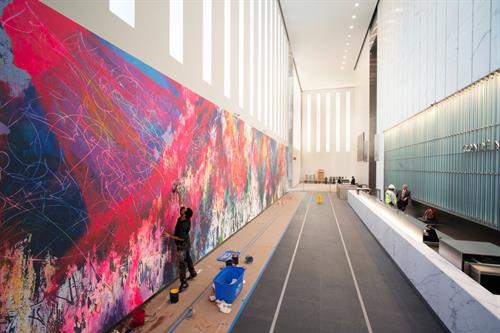 Parlá's New Parlance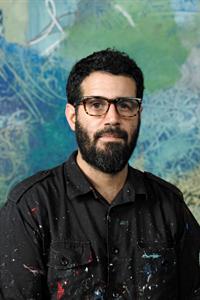 Artist José Parlá. Photo by Dirk Anschutz
MDC alumnus José Parlá has won some of New York's most sought-after commissions. In a span of two years, the artist has completed three major large-scale works: Gesture Performing Dance, Dance Performing Gesture for the Brooklyn Academy of Music, Diary of Brooklyn for the new Barclays Center, and his magnum opus ONE: Union of the Senses, a gargantuan painting spanning 90 feet by 14 feet in the lobby of the new One World Trade Center.
Parlá has cited the magnitude of the responsibility he felt, his deep respect for the families, and his memories of Sept. 11 as driving forces in the creation of this painting, which he hopes will bring people together. The mural took Parlá eight months in the studio and two weeks on-site to complete. An estimated 20,000 people per day view the work as they enter the building.
A backstory that makes Parlá's work so unique is that it originated on the street. With the name "Ease," Parlá began as a graffiti artist, painting socially incisive images on the walls of New York to create a new form of public parlance similar to that of Jean-Michel Basquiat and Keith Haring.
Parlá now brings into the gallery the complex palimpsest of exterior urban walls combined with writing – replete with layers of peeling paint, shredded posters and marks. In an interview with Blouin Artinfo, Parlá explained that he sees walls "as a way to understand humanity through this psycho-geographical map of traces that not only belong to the past, but continue into the present."
A native of Miami, Parlá fondly remembers his formative time at Miami Dade College.
"My favorite class was logic with Professor Alfredo Triff," he said. "The way that I studied logic and the way that he taught  it allowed me to apply his teachings  to my art-making process."

Besides major commissions, Parlá continues to exhibit his work extensively around the world. He has had solo exhibitions this year at the High Museum of Art in Atlanta and a two-part exhibition held simultaneously at the Bryce Wolkowitz Gallery and the Mary Boone Gallery in New York City.
More Making Their Mark Articles