---
Making Their Mark
Making an Impact at The White House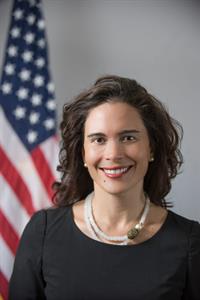 MDC alumna Mileydi Guilarte is director of the Central America Strategy Implementation/National Security Council.
MDC graduate Mileydi Guilarte, who spent eight years of her childhood toiling in flea markets, still can barely believe she now works in the White House.
"It's surreal. It pulls at my heartstrings," said Guilarte, who now serves as director of the Central America Strategy Implementation/National Security Council.
"This is a five-year White House initiative that seeks to work in partnership with governments in the region to address some of the most critical development needs. It's very humbling."
Motivated to Excel
A native of Havana, Cuba, Guilarte arrived in Miami with her family in the late '80s. The family cooked Cuban food and sold it at different Miami flea markets, with Guilarte working the cash register most weekends until she was 17.
"That experience taught me the value of hard work," she said. "It also propelled me to do well in school because I aspired to do more."
Her ambition led her to MDC's Kendall Campus, where she became the first in her family to graduate from college, earning an associate degree in 1996.
A Circuitous Path to Success
Guilarte had a sense of what she wanted for a career, but she had no idea how to get there.
"I was civic-minded and involved in volunteering at a homeless shelter," she said. "MDC allowed me to explore my options."
After graduating from the University of Florida, where she majored in journalism, she worked as a reporter for the Sun-Sentinel in Fort Lauderdale, where she hoped to become a war correspondent. When that job didn't materialize, she headed to Israel to look for work with several wire services.
"I bought the plane ticket with my credit card – I had no money," she said. "This was in 1999 during one of the last Intifadas, and things were looking very grim in Israel."
Unable to make ends meet despite her best efforts, she returned to Miami, where a story on National Public Radio motivated her to look into American University, in Washington, D.C., where she wound up completing a master's.
Changing the World
After graduation, her commitment to promoting democracy and human rights took her to East Timor, India and the Republic of the Maldives, where she worked for the United Nations, the World Bank and the U.S. Agency for International Development.
In her current position, she is focused on El Salvador, Honduras and Guatemala, three Central American countries torn apart by violence. El Salvador has the highest homicide rate in the world.
Explains Guilarte: "We need to pay close attention to this region because of the proximity to the U.S. There are a host of issues from high unemployment, malnutrition and kids turning to gangs instead of a different way of life."
— WV
More Making Their Mark Articles