---
Powerful Partnerships
In Promotion of Pluralism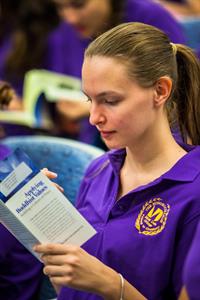 MDC Honors College students read about Buddhism during the first forum in the series.
As the globe shrinks and strife based on religious differences becomes a greater part of the public consciousness, the obligation for higher education institutions to promote mutual understanding by learning about and appreciating other faiths is increasingly clear.

To further this noble cause, MDC recently formed the Multi-Faith Forum on Religious Pluralism and Democracy, co-sponsored by MDC's Social Science Department at North Campus, the Global Urban Sustainable Peace Center, MDC's  Institute for Civic Engagement and Democracy and the Earth Ethics Institute at MDC.

Roundtable discussions in the series are being led by eminent speakers from numerous faiths, including Buddhism, Christianity, Judaism, Hinduism, Sikhism and Islam. The forums will examine distinctions and shared values in a religiously pluralistic society within the context of U.S. democracy.

"The initial presentation, which helped set a wonderful pace for the series, was led by an inspiring team from the Soka Gakkai (Value Generating) International Buddhist lay organization," said MDC Professor Dr. Michael J. Lenaghan, who organized the forum. "The thought-provoking, candid exchanges clearly demonstrated the value of such an evocative and sometimes provocative learning and constructive growing experience."

The forums will take place on designated Tuesdays and Thursdays in the fall and spring. For details, see the campus calendars at earthethicsinstitute.org.
More Powerful Partnerships Articles