---
Academics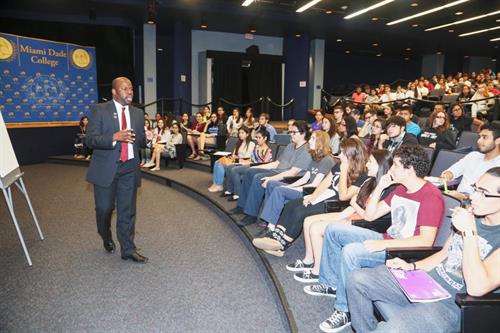 A Stronger Financial Future
Through a partnership with the Florida Council on Economic Education, MDC is improving the bottom line in people's personal lives by teaching financial literacy at its Center for Economic Education.
The Center, which is based at MDC's InterAmerican Campus, helps teachers become more adept in finance so that they can pass this knowledge on to students in Miami-Dade and Monroe counties.
"In the past four years, the Center has conducted 40 workshops for over 600 teachers, for more than 4,000 contact hours," said Center Director David Mahon.
The Center enables teachers to improve their knowledge of economics while providing them with resources and strategies to help them convey this vital information to students in both public and private schools. MDC is one of just a handful of colleges and universities in the nation to offer this program.
"A good understanding of personal finance is one of the best ways we can combat poverty and improve life outcomes," Mahon said.
For the Center work, Mahon, who is a professor at InterAmerican Campus, received the 2015 Rising Star Award from The National Association of Economic Educators (NAEE) and the Council for Economic Education (CEE). The award recognizes an individual who has made extraordinary contributions to economic education early in their academic career and who demonstrates strong leadership potential.
Jennifer Barrios, social studies coordinator for Monroe County Schools, was thrilled when MDC collaborated with the Federal Reserve for a workshop in her region.
"Due to our geographic location, it is very difficult to secure quality training for our teachers, but David was able to provide this at no cost," Barrios said.
More Academics Articles