---
Cultural Spotlight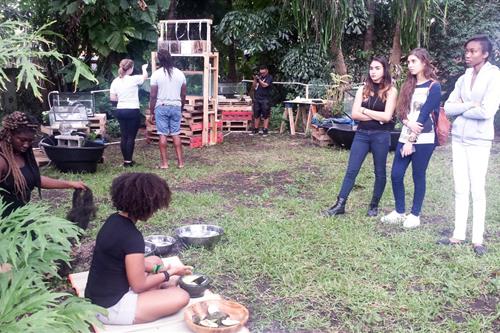 Art Explorations Begin at Home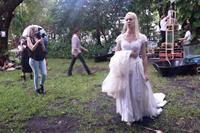 NWSA student Bernadeta Majauskaite performed in '100 Weddings.'
Performing at the highest level is standard practice for students of New World School of the Arts (NWSA) at MDC. So, when the art world came for Miami's art fair bonanza in December, NWSA's visual artists were poised and ready to put themselves out there and showcase the combo of hard work and "it" factor that sets them apart.
At Casa Lin, an actual house and outdoor exhibition space in Miami's Wynwood Arts District founded by author and philanthropist Lin Lougheed, NWSA students, faculty and alumni had free reign during Art Basel week to transform it into a unique and authentic contemporary art space.
Intriguing Interactions
This year's show, Here and Now, featured interactions both playful and mature by NWSA college freshmen.
Alián Martínez and a crew of assisting students greeted arriving patrons as street sweepers with shirts labeled "Immigrant Cleaning the Yard," referencing current events surrounding immigration.
Bernadeta Majauskaite became a bride in 100 Weddings, engaging visitors individually in mini ceremonies, gently singing melodic Latvian songs to them while binding her hand with theirs in white lace – and then releasing the bond in a clean cut with stainless steel scissors.
Donning a speaker on her chest, Pati Monclus had viewers generate feedback by dangling a needle close to the speaker magnet.
Performative Installations
Works located throughout the yard combined performance with sculpture, installation, video and painting. InWater Inc. by Monclus, Sarah Buchanan and Rachel Ledesma dealt with the issue of sea-level rise. It featured fish tanks bearing different levels of water and foliage, connected by PVC pipes that kept water running through the installation. Skyler Nador tap-danced black paint into an original painting on a small white stage. Ariel Brett immersed herself – and her hair – in a laborious, process-oriented work, with materials including fresh produce and hair weaves. Edny Jean-Joseph and Charlissa Montrope referenced notions of identity, while Valeria Guillen enlisted her brother Pablo in a puzzle-completing event accompanied by banana smashing.
Sculpture in the Yard
Student Rafael Rodríguez created forms out of thin sheets of PVC that could easily morph based on their positioning and folding.
Sculptures by faculty members Carol Todaro and Ralph Provisero, as well as alumnus Mike Loveland, occupied the pine rockland.
— MR
More Cultural Spotlight Articles