---
Cultural Spotlight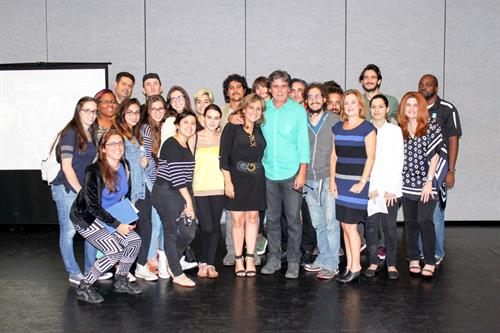 Connecting Students With the Stars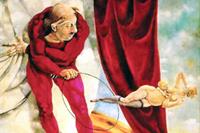 The art of Benjamín Cañas was recently presented at NWSA in conjunction with MAW events.
As South Florida's premier arts conservatory, New World School of the Arts at Miami Dade College nurtures young artists with multiple opportunities for growth. This past fall, its Make Art Work (MAW) lecture series enabled the talented students to learn from and interact with master artists from different disciplines.
World-renowned jazz composer Sammy Nestico presented "Composing for Our Future," sharing stories about his career as a composer and arranger for film studios and legendary artists including Barbra Streisand and Frank Sinatra. The next day, Nestico shared the stage with the NWSA Symphony Orchestra and Jazz Ensemble during a concert at Overtown's Lyric Theater.
"His presence on campus was unforgettable," said NWSA Dean of Music Daniel Andai.
Recognized art critic, writer and curator Dr. Adriana Herrera and Cuban art historian, curator and artist Willy Castellanos gave the first MAW lecture in Spanish about exploring Miami's curatorial opportunities. In addition to benefiting students, the lecture was open to the community and presented in conjunction with the opening of Benjamín Cañas: A Selection of Works from the NWSA Permanent Collection on the renowned Salvadoran painter.
"More than 70 percent of our visual arts students are of Hispanic descent and are fully bilingual, although some, who have arrived recently from their native Latin American countries, are still in the process of mastering English," said NWSA Visual Arts Dean Maggy Cuesta. "To be able to speak to them in their own – or their parents' language – offers another avenue to tap into the rich Hispanic culture and demonstrate that language should not be a barrier when it comes to exploring art and the business of art."
New World School of the Arts is a shining example of the exceptional collaboration of Miami Dade College, Miami-Dade County Public Schools and the University of Florida.
— MR
More Cultural Spotlight Articles