---
Features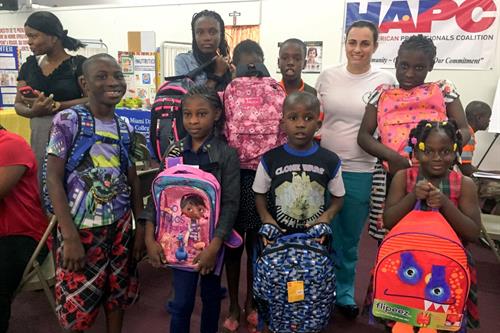 Making a Difference in Immokalee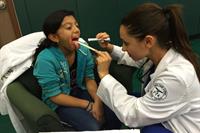 Students in the MDC Physician Assistant Program gave physical exams.
Students at MDC's Benjamín León School of Nursing recently took to the road to provide health services to migrant workers in the community of Immokalee. The workers, who are primarily from Latin America and Haiti, live in and farm this South Florida area that produces almost all the winter tomatoes grown in the United States. They live under harsh conditions and face a daunting array of health issues.
The five-day program, led by MDC Nursing Professor Dr. Marie Etienne, was a partnership of MDC's Benjamín León School of Nursing, health sciences and physician assistant (PA) students, Professor Pascale Gehy-Andre, the Haitian American Nurses Association of Florida (HANA) and the Haitian American Professionals Coalition (HAPC). The students provided medical and nursing services as well as health screenings and education to more than 450 migrant workers within the Immokalee community.
Health care access is a severe problem for Immokalee's migrant workers, and higher than normal rates of communicable diseases, chronic illnesses, malnutrition and other ailments prevail. In addition, teens in the community often present behavioral and social problems that increase the stress and adversity in their lives.
"We took a total of 13 students from both our Community Health Nursing practicum and our Advanced Concepts practicum," Etienne said. "The service-learning component of this immersion project in our program is extremely important. We want our students to be changemakers and social innovators."
As an ASHOKA-U institution, MDC continues to support faculty and students in their innovative practice and service-learning projects to better serve the community, Etienne said.
The MDC nursing students are all part of the RN to BSN program, in which registered nurses complete the Bachelor of Science in Nursing degree. By working in the Immokalee immersion experience, they fulfilled course requirements in caring for pediatric patients, women and families who live within a rural, underserved population.
The students performed general health screenings along with blood glucose and cholesterol screenings. They also provided health education on diabetes, hypertension, obesity and other illnesses. In addition, the PA students performed physicals under the supervision of their professor, Gehy-Andre.
"I had a once-in-a-lifetime experience," said student co-leader Avishag Engelman. "The feeling of being a part of a group was genuine, and it made the experience and the ability to affect the lives of others so enjoyable. The people of Immokalee showed such gratitude in return. My heart and soul are warmed as I reflect back on this chance to give to a community."
More Features Articles