---
Features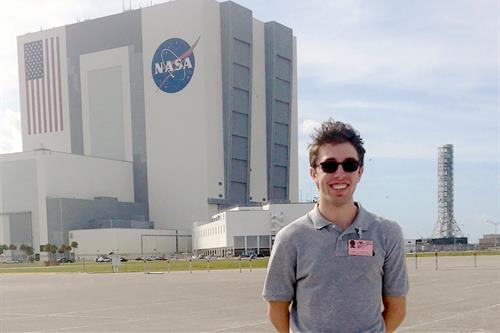 Envisioning a Manned Mission to Mars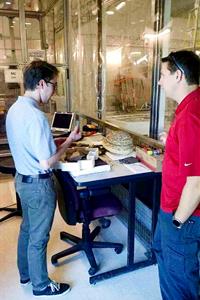 Honoros College student Jason Quiroga, left, was invited back after his visit with the MDC Technology Department last summer to tour the restricted areas at NASA Kennedy Space Center in Florida.
When Jason Quiroga and his family used to take vacations to Disney World, he always begged his parents to stop by the Kennedy Space Center.
"Ever since I was five years old, I was fascinated with space, rockets and the technology that allows us to travel to other planets," he said.
Now 19 and in the Honors College at MDC's Wolfson Campus, Quiroga has turned his childhood fascination with outer space into an exciting career path. His ultimate dream is to become an astronaut, and he is making great strides toward that goal.
Tough Competition
Last summer, out of 2,000 applicants, Quiroga was one of only 300 selected nationwide to take part in the NASA Community College Aerospace Scholars Project. The five-week program included webinars, interaction with NASA engineers, weekly tests and a final project.
"Every student was asked to submit a proposal for a mission to Mars," said Quiroga, who is studying aerospace engineering at MDC. "Many focused on rovers, but I took mine one step further and wrote in detail on a proposal for the first manned mission to Mars.
"To my surprise, my project was downloaded at NASA headquarters in Washington, D.C., by a library scientist for the International Space Station. She put my paper in the research database for future Mars missions. I thought that was truly incredible."
The Next Round
As one of the scholars with the highest overall scores, Quiroga was chosen for an all-expense-paid, on-site training program at Marshall Space Flight Center in Huntsville, Alabama, NASA's largest facility. There he attended briefings with NASA experts and worked hand in hand with engineers on an exploratory Mars rover project.
Quiroga said attending the Honors College was a strategic move on his part due to MDC's association with NASA through the Aerospace Scholars Project.
"I also knew that the Honors College would give me a top-rate education and serve as a stepping stone to top universities in my field."
— WV
More Features Articles