---
Features
Social Entrepreneur Builds Skills at MDC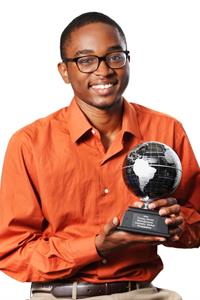 Gregory Johnson won the Young Social Entrepreneur of the Year award.
Gregory Johnson, a product of MDC's Idea Center, has a career goal that can be distilled to two words: problem solver.
"I want to use machine learning to find solutions for problems that affect urban cities, especially here in Miami," said Johnson, 21.
More specifically, he wants to focus on two areas: education and health care.
Civic Lesson
One of the main projects he developed thanks to his training at the Idea Center is Miami Graph, an interactive graph that shows where city money is being spent.
"Our goal is to create civic awareness of what is happening in our government," said Johnson, who designed and built the website with the teamwork of Mauro Pérez, a Web developer. "We've received a tremendous amount of positive feedback. We now want to add a layer where people can voice their opinion on the budget and how they think it should be adjusted. This will create more civic engagement."
Full STEAM ahead
Besides Miami Graph, Johnson's other social entrepreneurial endeavors include Sales Genius Miami, a sales workshop offered in South Florida that teaches professionals about advanced business concepts.
"We take the proceeds from these workshops and donate them to the nonprofit Genius Factory, which funds projects where kids in Overtown get to learn STEAM skills," said Johnson, who helped co-organize Sales Genius Miami with Riyaad Seecharan, managing director at Tesser Health. STEAM adds arts studies to the in-demand STEM fields of science, technology, engineering and math.
For his outstanding work, the Casimiro Global Foundation recently honored Johnson with the Young Social Entrepreneur of the Year award.
Guidance and Mentorship
Helping Johnson along the way in his classes at Miami Dade College is Wifredo L. Fernández, director of CREATE Miami, which is the Center for Enterprise Acceleration and Transformative Entrepreneurship at MDC's Idea Center.
"Director Fernández has been a mentor who has connected me to many resources," Johnson said. "The Idea Center gave me a place to work on my ideas and meet like-minded students. It taught me how to take an idea through development and execution."
More Features Articles