---
Making Their Mark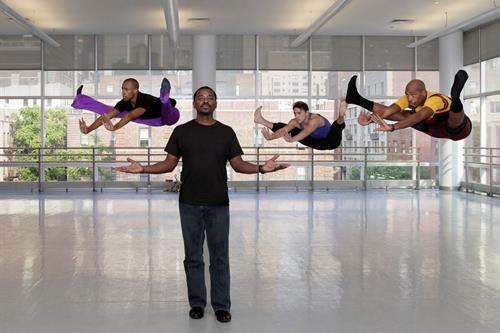 An Unforgettable Homecoming
Robert Battle is returning to Miami in full glory this spring when the Adrienne Arsht Center for the Performing Arts presents his first commissioned work since he became artistic director of Alvin Ailey American Dance Theater in 2011.
An alumnus of the New World School of the Arts at MDC who grew up in Liberty City, Battle is the elite member of an exclusive club, serving as only the third person to head the famed dance company since its founding in 1958.
Premiering on Feb. 18, Battle's exciting new piece is called Awakening. Set to music by American composer John Mackey for a cast of 12 Ailey dancers, Awakening is one of 10 works commissioned for the 10@10 series celebrating the Arsht's 10th anniversary. Among the dancers featured is Jamar Roberts, another esteemed New World alumnus.
Battle's gift as a performer developed relatively late in life for a dancer, since he wore corrective leg braces before entering elementary school. Inspired by seeing Ailey's Revelations and hoping to strengthen his legs, he took his first dance class at age 13. His love of performing prompted him to enroll at New World School of the Arts.
"New World's dance program is terrific," Battle said. "Some of my fondest memories of learning happened there, and I established relationships that continue to this day."
After graduating, Battle danced with Parsons Dance Company then founded Battleworks Dance Company in 2002. Battle was a frequent choreographer and artist-in-residence at Ailey before being named director.
"Seeing the Ailey company perform had such a huge impact on my heart and my consciousness," he said. "It served as a guide for me, and I want to do the same for kids in Miami. I know firsthand that when a youngster sees the Ailey company, it can lead them to greatness.
"I grew up in Liberty City and made it to Alvin Ailey, so to now come back for this premiere in my hometown is an awesome, full-circle moment."
— NN
More Making Their Mark Articles