---
Making Their Mark
A Gift for Numbers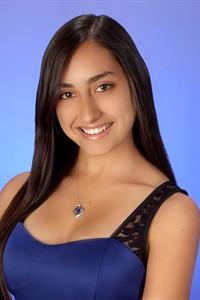 MDC student Yessica Maltes has been selected as a 2015 Phi Theta Kappa Global Leaders of Promise Scholar.
Not everyone is good with numbers; fewer still have a talent for teaching others how to master them. That skill along with strong leadership traits led to MDC Honors College student Yessica Maltes being chosen as a 2015 Phi Theta Kappa Global Leader of Promise Scholar.

"I've been tutoring since I was in the ninth grade," said the 20-year-old. "I now volunteer to help everyone from elementary school children learning how to add and subtract, to high school students preparing for their AP exams, and even my Honors College peers studying for their calculus exams."

In her junior year of high school, Maltes took on a part-time accounting job. "I thought I would just be filing papers," she said. "But my boss let me do much more, and I learned that I had a knack for reading financial statements."

As part of the competitive application process to become a Global Leader of Promise Scholar, Maltes had to write an essay about her goals and the community service she has done. In addition to her extensive tutoring, she has served as a docent at the Frost Art Museum and worked on social media for the National Water Dance at New World School of the Arts at MDC. All the while, Maltes has maintained a 3.91 GPA and participated in numerous Honors College events, including the prestigious Inside Washington seminar at the nation's capital.

"We heard the inside story about national politics from both journalists and politicians," she said. "We learned about transparency and how difficult it can be to get the full story on the issues."

Aspiring to become a CPA or financial advisor, Maltes wants to complete bachelor's and master's degrees in finance and accounting and then work for one of the nation's top four accounting firms.

And there's no doubt she's well on her way to that goal. After all, not only has she mastered her own personal finances, she's already taught countless others the joy of balancing the books.
More Making Their Mark Articles