---
Powerful Partnerships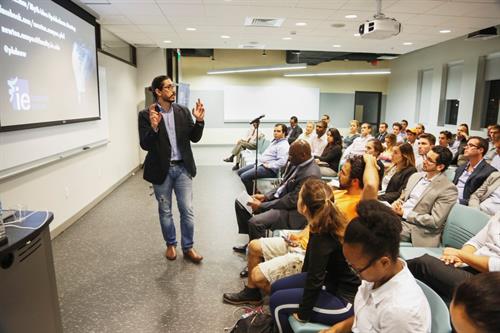 A World View on Entrepreneurship
One of the world's top business schools partnered with The Idea Center to present a master class for students on factors that contribute to the success of startup companies.
Dr. Newton Campos, a professor of entrepreneurship at Europe's top-ranked IE School of Business in Madrid, presented a dynamic and unconventional lecture on "The Myth of the Idea and the Upsidedown Startup." He challenged students with his hypothesis that successful startups are not built on great ideas, but rather they succeed because of execution and the use of powerful concepts such as design thinking, lean startup techniques and effectuation, which is the gift of envisioning the creation of new ventures.
The master class is one of many compelling learning opportunities at The Idea Center that help MDC students on their path to entrepreneurial achievement.
— AMS
More Powerful Partnerships Articles