---
Academics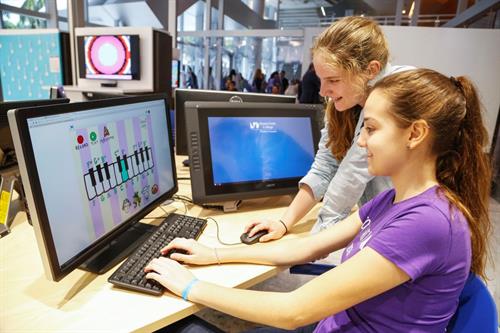 Unlocking Technology's Doors
An exploding technology field has rocked the culture and created a booming sector of the economy, but women are vastly underrepresented in the field.
"The proportion of women currently in technology across the board is estimated to be around 18 percent," said Mauricio Ferrazza, chair of the Miami Animation and Gaming International Complex (MAGIC), a state-of-the-art initiative  in MDC's School of Engineering + Technology at Wolfson Campus.
A recent event organized by Code Art Miami and hosted by MDC at MAGIC's cutting-edge facility was part of a larger initiative to increase opportunities for women in the field. Founded by Maria Mejia, Code Art Miami introduces coding to girls at an early age through creative coding projects and community building among those who want to learn more about computer science and technology.
Code art is digital visual art generated directly by computer code, without the use of a computer graphics tool to make an image. The event featured a contest of code art created by girls as well as a panel discussion on women in technology. The afternoon also included a tour of the MAGIC facilities, which feature the latest in animation and graphics technology, including an image capture studio.
Besides the activities, thousands in scholarship funds were raised to help a girl pursue an education in technology.
"It's a really cool initiative," said Ferrazza. "Most of the girls participating are in middle school, so it gets girls interested in coding early. Also, many of the girls are from underprivileged communities, so it's providing a great opportunity where it's really needed."
More Academics Articles