---
Making Their Mark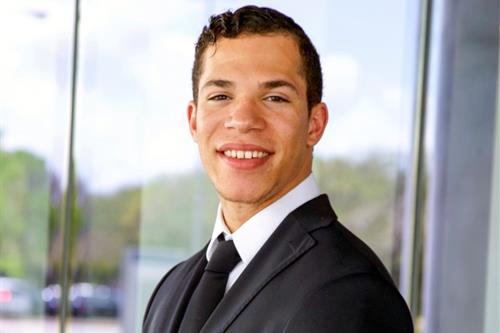 Ready to Make an Impact
With the goal of learning German, Kendall Campus student Gabriel Lechner planned to spend a summer in Switzerland working as an au pair caring for children. But an MDC advisor told him to aim higher and consider an internship with The Libra Group, an international conglomerate operating subsidiaries in a variety of industries.
When Lechner visited Libra's website, he was forced to confront a lot of self-doubt as he read about the highly qualified students who typically earn internships. He applied anyway, and good things happened.
"Fast forward a few months, and I'm on an airplane heading to New York for my week-long orientation with The Libra Group," said Lechner, 22. "I was there meeting other interns who attend schools such as Princeton and Cornell. I felt honored to be among this caliber of students."
From New York, Lechner went to London to work for three months as a summer intern in Libra's financial services sector.
Just being there, let alone working for Libra, was an incredible accomplishment given where Lechner has come from. As a baby, he was given up for adoption by his biological parents, who were teenagers at the time. His adoptive parents faced financial hardship and were evicted from their home when he was 16.
"My life changed drastically," he said. "We moved from Jacksonville to Miami. It was then that I decided to study business and finance so I could begin to understand how our eviction could even happen."
After graduating from South Miami Senior High, Lechner chose MDC because he wanted to use the College's excellent education and achievement record as his own springboard to an Ivy League school.
"I fell in love with MDC and the opportunities it gave me," he said.
Ready for future success, Lechner has applied to Cornell, Columbia, Georgetown and Amherst. He plans to major in economics and minor in math, with the ultimate goal of earning an MBA from Harvard, working as an investment banking analyst for Goldman Sachs, owning his own business and then running for political office.
"I have been inspired by MDC President Dr. Eduardo J. Padrón," Lechner said. "I've seen the impact he has had on so many people's lives. The natural extension of that for me was: Why not affect the lives of as many people as possible by running for office and helping to make things better?"
More Making Their Mark Articles