---
Cultural Spotlight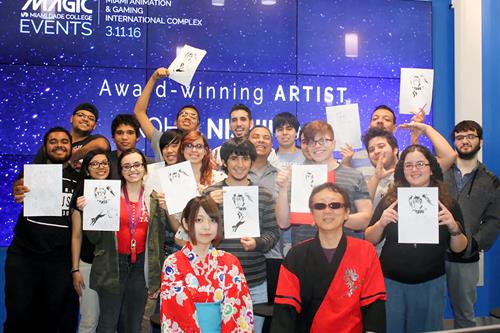 Reveling in the Marvels of Manga
Miami Dade College's Miami Animation & Gaming International Complex (MAGIC), in collaboration with the Consul General of Japan in Miami, hosted a lecture and workshop this spring featuring award-winning manga artist Kohei Nishino.
Guests of all ages enjoyed the free, public workshops and lectures led by Nishino during his two-day visit to South Florida. Each session included a question and answer opportunity, enabling participants to interact with Nishino, who is an associate professor at Kyoto Seika University.
Nishino worked on the animated film Gundam F91 and was a guest panelist at the San Diego Comic-Con. He has published many works under both his name and the shared pen name Konohana Sakuya. His co-authored manga Encounters won the Grand Prize of the World Manga Faithful Readership Award in 2002 and the Cultural Agency's Jury's Choice Award for Manga at the 2003 Media Arts Festival. His work also regularly appears in novels, web-based animation and the popular monthly magazine Shonen Jump.
More Cultural Spotlight Articles