---
Features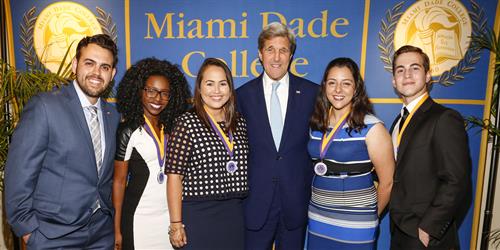 Secretary of State Lauds Honors College Students
In an exciting prelude to MDC's commencement activities, U.S. Sec. of State John Kerry delivered an inspiring keynote address to a captivated audience of students from The Honors College during a special ceremony in recognition of their academic accomplishments, leadership contributions and community service.
"You have shown a willingness and a commitment to try to demand the best from yourselves, and thereby, to take that first giant step toward what you will need to find success," he said. "You have every right to take pride in Miami Dade and what you've accomplished."
Kerry asked students to consider how they will apply the lessons learned during their time at "Democracy's College" as they set out to make their mark on the world.
He also celebrated the immense diversity represented among MDC's vast student body.
"Don't let anyone undermine your faith in the American Dream, because make no mistake, that dream begins with diversity," he said. "The student body of this college is a living demonstration of that important principle."
During his remarks from MDC's National Historic Landmark Freedom Tower, Kerry also lauded the College for its focus on innovation and cutting-edge approach to education as well as its award-winning initiatives, service-learning projects and internationally recognized cultural programs such as Miami Book Fair and Miami Film Festival.
— AMS
More Features Articles