---
Features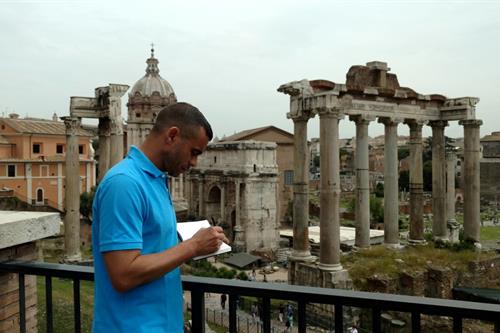 A Golden Opportunity
Miami Dade College faculty are regularly counted among the elite when it comes to selection for exciting research opportunities. Following his participation in the prestigious National Endowment for the Humanities Summer Scholar Program in Spain last summer, North Campus Architecture and Design Professor José R. Vázquez has been selected for the Visiting Artists and Scholars Program at the American Academy in Rome.
Research in Rome
Considered the foremost American overseas center for independent studies and advanced research in the fine arts and humanities, the program gives artists and scholars the opportunity to engage in enriching interdisciplinary exchange and innovation.
Members of the Academy were familiar with Vázquez's unique skills in painting and architecture, which made him an ideal candidate in their eyes, and so they extended a personal invitation encouraging him to apply.
New Insights
"Here at MDC, I teach history of architecture and drawing, disciplines that are fundamental to the growth of every architecture student," Vázquez said. "So the program in Spain last year and now this one in Rome are giving me valuable new perspectives about art, architecture and the humanities that I share with my students." 
During the program's nearly three-week duration this past May, Vázquez worked closely with notable creative individuals from a wide array of disciplines including visual artists, humanists, musicians and writers. He attended lectures and art exhibitions, in addition to studying Roman Baroque architecture by visiting several buildings in Rome, including palazzos and churches.
Besides obtaining informative materials to use in his MDC courses, Vázquez is well along his way to giving back by producing a series of oversize drawings for the Academy.
"This program in Rome makes all my teaching current and relevant for my students at MDC," Vázquez said.
— NN
More Features Articles