---
Features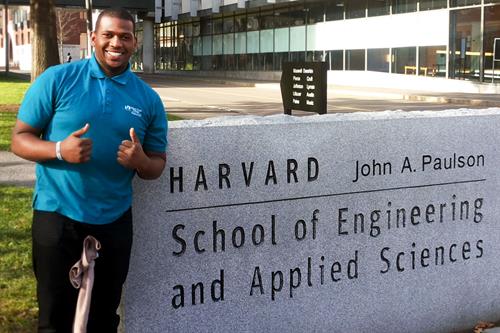 A Bridge to Harvard
When Noe Miniel got to college, he was looking for something more, something that would take his educational experience to the next level. He found it at The Idea Center, where he enrolled in the CS50x Miami course in computer programming.
"That course was the course I was looking for," said Miniel, who is studying computer science at North Campus. "I had taken many computer sciences courses, but this was that course that I knew would open doors for me."
CS50x Miami is an offshoot of a popular computer programming course developed and taught at Harvard. It provides students with a foundation in computer programming and web development that puts them on a path to a career in technology.
And Miniel was right about it opening doors. As a result of his success in CS50x, he was invited to spend the summer at Harvard working on various computer science projects alongside Professor David Malan, developer and main instructor of the CS50 course for Harvard and Yale University.
"Professor Malan saw my work, and he saw something in me," said Miniel, who is the second student recruited by Harvard from MDC's CS50x graduates. His path is all the more impressive considering that Miniel emigrated to the U.S. from the Dominican Republic just six years ago and had to learn English from scratch.
"This opportunity at Harvard is all thanks to the programs offered at The Idea Center," he said. "It has changed my life, and I can't wait to see what comes next from this experience."
More Features Articles