---
Making Their Mark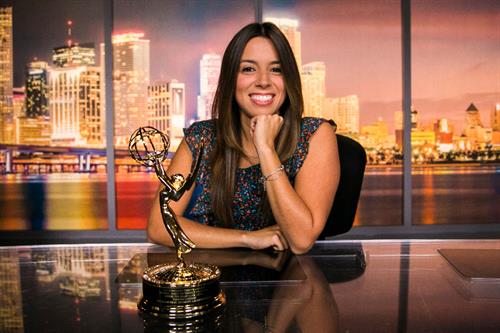 Taking on the Heat
As a 10-year-old on family vacations, it was always Verónica Perón with a video camera in her hand, chronicling the adventures.
In high school when she arrived at Doral Academy, there wasn't yet a TV production department. Still, every teacher knew to call on Perón for filming events, everything from football games to dance recitals.
But it wasn't until she arrived at Miami Dade College that she got her first formal training in her career, earning a bachelor's degree in 2015 in Film, TV & Digital Production.
Today, Perón, 24, works for the Miami Heat as a producer, videographer and editor. During home games, she's the wizard behind the Jumbotron working on Heat TV programming.
Perón said MDC played a huge role in getting her to where she's at with the Heat.
Understanding the Workforce
"Besides MDC providing me with great professors who have industry experience and besides giving me access to the newest technology and software and besides being so much more affordable, there was another factor," said Perón, who graduated with a 3.86 GPA.
"I have friends at other schools who struggled to get internships because the classes they needed were only available between 11 a.m. and 4 p.m. At MDC, they understand people. They know that many of us have 9-to-5 jobs or internships. We can take night classes."
Having that flexibility helped Perón land a Heat internship in her senior year at MDC.
She spent every free moment she had with the Heat, and her devotion was both noted and appreciated. One month before the internship was over, she had a job offer from the Heat as a production assistant.
And the Winner Is …
Last year, she earned a Suncoast Emmy award for her work as a camera operator on an Inside the Heat show with Miami forward Luol Deng.
"You can't be a good producer if you don't understand cameras and editing," she said. "You have to be versatile."
Ultimately, once she has accumulated more experience in the field, Perón wants to teach film, TV and digital production to the next generation.
She said she has been inspired by two of her MDC professors, Billy Oliver and Agustín González.
"They pushed me to be better," Perón said. "Even when my work was good, they wanted me to get to the next level. That shows that a professor cares. They saw the potential in me, and they wanted to make sure I used all of it."
— WV
More Making Their Mark Articles