---
Making Their Mark
A Gift for Teaching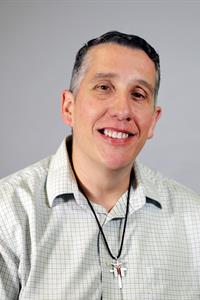 MDC Professor Dr. Raul Escarpio received the Susan Phillips Gorin Award for outstanding contributions to children with exceptionalities.
MDC Professor Dr. Raúl Escarpio recently was honored by the National Council for Exceptional Children (CEC) with the 2016 CEC Susan Phillips Gorin Award, for his exemplary personal and professional qualities along with his outstanding contributions to CEC and to children with exceptionalities.
Escarpio is an associate professor at MDC's InterAmerican Campus School of Education. He also teaches at North Campus, co-advises MDC's CEC Student Chapter and is a member of the Florida CEC Board. The award ceremony took place in St. Louis at the annual conference for the CEC, an international advocacy organization that seeks to improve educational outcomes for students with disabilities or special talents.
"This award is a special honor and true testament to Prof. Escarpio's knowledge, skill and passion for teaching. He cares deeply about his students and the important work they will do as teachers," said InterAmerican Campus President Dr. Joanne Bashford.
Escarpio also was selected to present his research at the 2015 CEC convention in San Diego. His work examined whether repetitive reading of texts improves comprehension in students whose disability can make focusing difficult. His method eliminated potential variables, and findings indicated that not only did comprehension and retention improve, but also the fluency of the reading was better and students made fewer errors.
More Making Their Mark Articles