---
Powerful Partnerships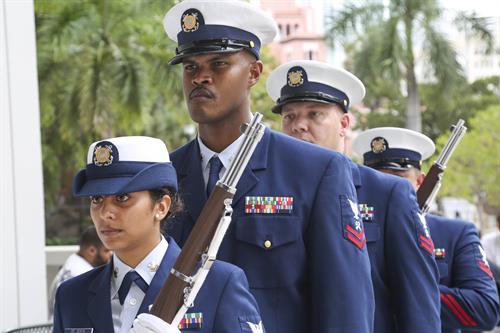 MDC Debuts Student Center to Support Veterans
Miami Dade College's strong tradition of service toward veterans recently was expanded with the opening of the College's Military and Veteran Student Success at West Campus.
The Center is a place for military and veteran students to register, seek advisement and simply meet with others who share similar experiences in the armed forces.
Businesses partnered with MDC to enrich the Center's offerings, which include textbooks from four major publishing houses: Pearson, McGraw-Hill, Cengage Learning and Norton.
Military/veteran students will have access to a library where they can check out the textbooks for classes while they await their book vouchers from Veterans Affairs. In addition, Americorps and the Department of Military and Veterans Affairs each provided a staff member to manage the Center.
West Campus is the first MDC site to establish a space for military and veteran students, and other MDC campuses are already working on similar centers.
— NN
More Powerful Partnerships Articles