---
Features
Seeking Cures at Cornell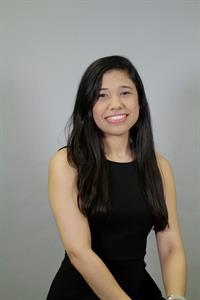 InterAmerican Campus alumna Gabriela Barrera plans to do research in neurological disorders.
As a budding scientist, Gabriela Barrera would be hesitant to describe her early sense of her future career as the result of psychic intuition. But she always knew that she loved the sciences, so early in life she decided to make a career out of the classes that made her mind tick.
As a recent transplant to the United States from Cuba, Barrera was eager to enroll at MDC's InterAmerican Campus as a biology student, laying the groundwork for future research in the development of alternative treatments to various neurological disorders.
With a perfect 4.0 GPA, Barrera earned a bevy of prestigious scholarships, including the María Elena Rodríguez Fundora Scholarship, United Faculty of Miami Dade College Scholarship, the Phi Theta Kappa Sunshine Scholarship and the 2016 InterAmerican Campus Board of Trustees Award. She is now putting all those funds to good use as she continues her studies this fall at Cornell University.
Making time in her busy academic schedule while at Miami Dade College, Barrera completed service work by volunteering at West Kendall Baptist Hospital, tutoring her peers in math and chemistry, and organizing awareness campaigns to promote breast and heart health for women. She also founded the first chapter of the Beta Beta Beta National Biological Honors Society at a two-year institution.
"Even though my schedule was difficult, it's all about discipline and time management," Barrera said. "You set your priorities, and you don't settle for anything less than your best effort."
Barrera is effusive with praise for Magda Castineyra, director of The Honors College Dual Language Program at MDC's InterAmerican Campus. "I deeply appreciate her willingness to help her students achieve their goals in life," Barrera said. "She made the Honors College at IAC feel like home."
With the ultimate goal of becoming a neurosurgeon, Barrera is preparing for medical school, and she looks back on her time at Miami Dade College as transformative.
"I take so much joy from my decision to come to the United States," Barrera said. "I have benefited so much from studying at MDC. This school expanded my horizons and encouraged me to dream big."
— NN
More Features Articles