---
Features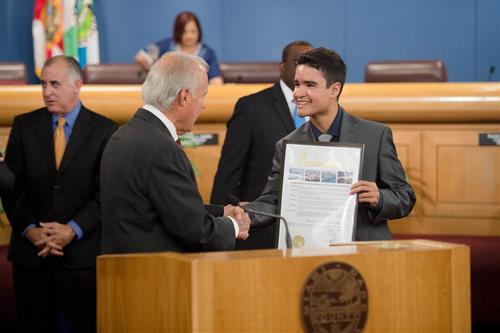 Shining in the Ivy Leagues
Although he's only 18 years old, Santiago Tobar-Potes is already a major success story adding to the laurels of the award-winning School for Advanced Studies (SAS) at MDC.
Studying this fall at New York City's Columbia University, the young Ivy Leaguer is now at a pinnacle of his academic career. He has traveled far from his modest beginnings as the oldest child of a working-class family from Cali, Colombia.
The family moved to Miami when Tobar-Potes was 4, and his hunger for knowledge led him to the SAS program at Wolfson Campus, where he recently earned an associate degree with a focus in economics. He graduated with highest honors, is the first person in his family to attend college, and speaks six languages – English, Spanish, Portuguese, French, Italian and Haitian Creole. In addition, he has won national awards for the skillful way he plays the violin.
Soaking Up Opportunity
"The metaphor for me is that life is like a wet towel," Tobar-Potes said, "and I want to squeeze every drop of it that I can, whether it's academically, musically or in some other way."
This spring, the hard work paid off when Tobar-Potes was one of only 85 high school seniors in the U.S. to earn the highly coveted Jack Kent Cooke Undergraduate Transfer Scholarship. He was chosen among a national pool of 4,500 applicants and will have what amounts to a full scholarship to his top pick of universities.
Tobar-Potes is just one of the many shining examples of excellence hailing from SAS, the dual enrollment high school at MDC that enables students to graduate with both a high school diploma and MDC associate degree in hand. Now, thanks to the Jack Kent Cooke scholarship, Tobar-Potes will receive up to $40,000 per year for the bachelor's degree and automatically is eligible for $50,000 per year in the Cooke Graduate Scholarship Program. The program's scholars are selected based on exceptional academic ability and achievement, leadership, persistence, financial need and a desire to help others. As a recipient, Tobar-Potes also has access to summer internship stipends and funds to study abroad.
Tobar-Potes is also a QuestBridge scholar and the SAS Silver Knight nominee for Music/Dance. He won't abandon his music talents while at Columbia University, but will continue developing his artistic side, too, through a collaborative program that Columbia has with Juilliard School in New York City.
A Closer Look at Policy
Over the summer, Tobar-Potes was back in the country where he was born, lending a hand serving as a legislative intern to a prominent senator in Colombia's National Congress.
"I helped work on educational policy," Tobar-Potes said. "That's something I'm very passionate about."
This fall at Columbia University, Tobar-Potes is a member of the Navy ROTC. Out of a strong sense of civic duty, he decided to add this commitment to his packed schedule.
"I'm incredibly grateful to this country that has given me everything," he said of the U.S. and of his desire to serve in ROTC.
At Columbia, he is majoring in human rights and political science. He then plans to get a master's at Oxford and a law degree at Harvard.
"I want to work in public policy," Tobar-Potes said of his eventual career. "I want to impact education in a positive way."
— WV
More Features Articles