---
Making Their Mark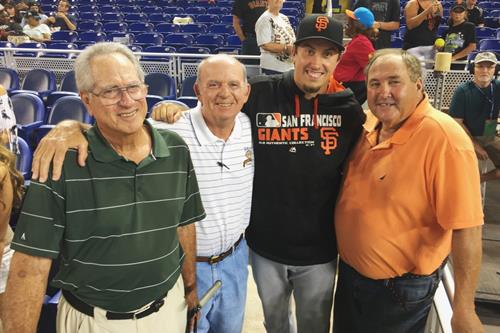 Shark Surge Hits MLB
With three former MDC players making their major-league debuts and one getting inducted into the Hall of Fame, this has been an incredible year for MDC's baseball program.
Outfielder Jabari Blash made his debut on April 4 with the San Diego Padres. Pitcher Derek Law made his debut on April 15 with the San Francisco Giants. Former catcher Mike Piazza was inducted into the Baseball Hall of Fame in July. And outfielder Brian Goodwin made his debut on August 6 with the Washington Nationals.
Oakland A's pitcher Jharel Cotton may be next to the majors – he has 10 wins in Triple A – the highest rung on the minor-league ladder.
But of the active players listed above, no one has had a bigger year than Law, a right-hander who struck out the side in a spectacular debut against the Los Angeles Dodgers.
"As a kid, you think about that moment all the time," Law said of pitching in the majors. "And then it's happening, and it goes by like that, and it's over. And you're like, well, now I'm in the big leagues I guess?"
The Giants, in a wonderful gesture, flew Law's closest family and friends – parents Joe and Tracey, his fiancée Chelsea and two friends – to Los Angeles for the game.
That was especially nice for Joe, who was a talented pitcher in his day and very nearly got his own chance to play in the majors until an auto accident sent him to the hospital and a long recovery that sidelined his career.
"I knew," Joe Law said, "that the reason why I never played in the majors was for me to be home with Derek."
Born in Pittsburgh, Derek followed his father's path. During his playing days, Joe was a 6-foot-2, 210-pound right-handed pitcher. Derek is also 6-2, 210 pounds, and he is also a right-handed pitcher.
The younger Law was "discovered" in October of 2008 by Frank Damas, who was MDC's recruiting coordinator at the time and saw Law play at a high school tournament in Jupiter.
As a sophomore at MDC, Law was dominant, going 8-5 with a 2.35 ERA and 121 strikeouts in 92 innings. The Giants drafted Law out of MDC, taking him in the ninth round in 2011.
Law's minor-league career went exceptionally well, but there was one more bit of adversity he had to overcome. He had elbow surgery in June of 2014, and he didn't return until one year later.
The surgery was a success, and this year has been proof. Law earned his first win on May 7 against the Colorado Rockies and his first save on June 13 versus the Milwaukee Brewers.
Although only a rookie, Law has become one of the better set-up relievers in baseball, and his movie-script year isn't over yet. His Giants are in first place and could make a run to the World Series, and he is marrying Chelsea – his high school sweetheart – on New Year's Eve.
To read stories about Blash and Piazza that appeared ealier this year in College Forum, see tinyurl.com/BlashMDC and tinyurl.com/PiazzaMDC
— WV
More Making Their Mark Articles