---
MDC News Bytes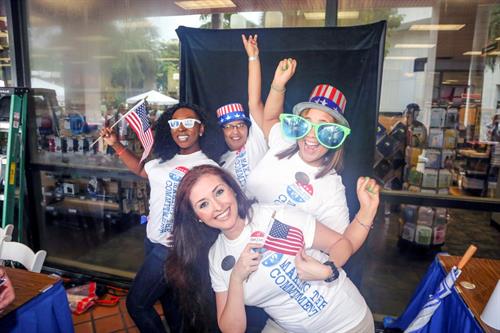 Power at the Polls
As it does each election cycle, Miami Dade College is hosting major events to encourage everyone to head to the polls to make their voices heard. The push begins on Sept. 27 when MDC will lead a countywide National Voter Registration Day hosted at North Campus to promote voter registration, voter engagement and voter turnout. MDC's Student Life and its Institute for Civic Engagement and Democracy are partnering with the Miami-Dade Department of Elections, the League of Women Voters, the Bus Federation and student deans for an action-packed day featuring marching bands, performers, live music, an information fair, voter registration booths and guest speakers.
On Oct. 26 at Wolfson Campus, Miami Dade College will partner for the first time on a new national Citizen University project designed to reinvigorate the culture of voting in Miami. The "Election Extravaganza" day will be a joyful festival with mock elections, entertainment, performers and voter information, all culminating in trips to Government Center for early voters to cast their ballots.
Long a national leader in the vital TurboVote initiative, Miami Dade College continues its partnership with that group this year to provide students with an online option to register to vote, sign up for election reminders via text and phone, request vote-by-mail ballots and update their addresses.
To learn more about TurboVote and other registration endeavors taking place at Democracy's College, see mdc.edu/vote. 
More MDC News Bytes Articles