---
MDC News Bytes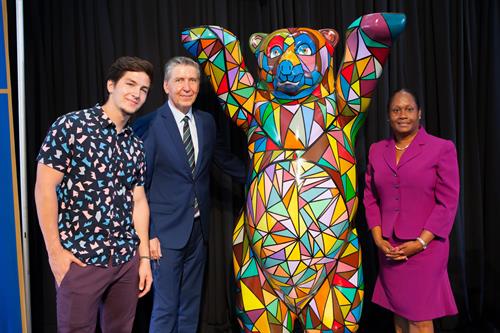 BuddyBear Connects Cultures
MDC's North Campus recently unveiled the Buddy Bear sculpture donated by the German Consulate of Miami. The work is part of a street art project that originated in Berlin inspired by creators Klaus and Eva Herlitz. It is now permanently housed at the North Campus' Miami International Sculpture Park, home to many large sculptures and a myriad of smaller sculptures that beautify the 245-acre campus.
"The North Campus is the ideal home for the Buddy Bear, given the diversity of our campus and our institution's open door to educational opportunity for people from all walks of life. The gift of such an important symbol of world friendship is greatly appreciated," said MDC North Campus President Dr. Malou C. Harrison.
The sculpture was donated to MDC painted plain white, serving as a blank canvas. MDC students submitted their ideas, with graphic arts student Abraham Vargas winning the contest with his design incorporating geometric shapes. Visual arts students then painted the sculpture under the guidance of MDC Professors Eric Cornish and Víctor Gómez.
More MDC News Bytes Articles