---
Academics
Insights from India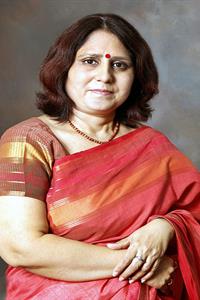 Dr. Harpreet Kaur
As part of an ever-growing international outreach initiative at MDC, Law Professor Dr. Harpreet Kaur from the National Law University, Delhi, the premier legal university in India, is teaching at the MDC Law Center this fall.
Serving as Miami Dade College's Fulbright Scholar-in-Residence, Kaur is teaching at Wolfson and North campuses. Her specialties of business and corporate law along with her expertise in securities and anti-trust laws bring unique perspectives to the classroom.
"I am working with MDC Prof. Danixia Cuevas, offering comparative perspectives on business law as part of the lectures. I am lecturing and supplementing courses with information on Indian constitutional law, the commerce clause and other matters," Kaur said.
With the emergence of India as a global manufacturing and economic power, there is vast mutual interest on the part of the United States and India to increase cooperation.
"For me this is an important current issue," Kaur said. "India has an expansive business development initiative called 'Make in
 India,' as India needs manufacturing and jobs, so I discuss how America plays a part in that. I'm giving talks on these issues not just at the Law Center but also at MDC's School of Business."
The international exchange could yield mutual benefits. One of the issues plaguing India's legal system is provision of access to justice to the poor. The U.S., Kaur pointed out, has a highly organized and well-developed paralegal education system.
"Lawyers in India are very expensive, and people in rural areas may face great difficulty getting a lawyer to assist them," Kaur said. "While I am here, I will be talking to those involved in paralegal education and studying how the paralegal system is structured here. Hopefully, we can institute a similar system in India that will help address this social justice issue."
More Academics Articles