---
Academics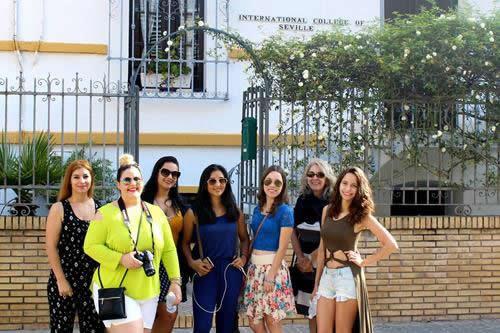 Time Traveling
This summer, a small group of MDC students led by Dr. Myra Medina, professor of the department of world languages at North Campus, had the chance to take in the history and culture of Seville, Spain, while improving their Spanish language skills in a two-week immersion trip.
Seville, one of the jewels of Europe, a city rich with historical, artistic and architectural monuments, was the perfect location for the students to explore and ponder the cultural differences between Spain and the United States.
The students were registered in a Spanish for Native Speakers course at MDC in addition to a course on culture and society offered by the International College of Seville. Both courses included daily classes in Spanish language, history, civilization and traditions. Some days cultural classes took place in locations of historic significance related to the material covered in the class that day.
"One class met in the very room where Christopher Columbus met Queen Isabella after his first voyage to the New World," Medina said. Another class took place at the famous Seville Cathedral – the largest Gothic cathedral in the world and the third-largest church building – where it is posited that some of Columbus' remains are interred. The students also had the opportunity to visit the city of Córdoba and learn about its historical relevance.
During their studies, students stayed with Spanish families, which further increased both the societal and linguistic facets of the immersion experience.
"This was life-changing and empowering for all of the students," Medina said. "Some of them had never taken a trip like that, and a student even said she felt that she had matured in just the two weeks that we were there."
It may be just the beginning for some of the students, said Medina.
"One student already told me she is considering coming back to study, maybe for a full year."
More Academics Articles