---
Making Their Mark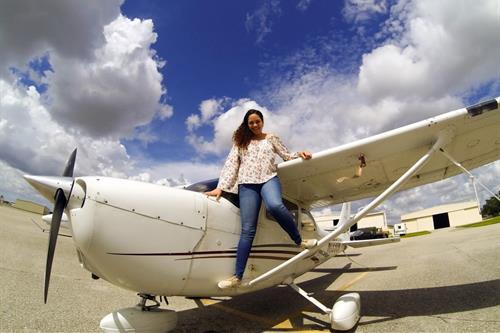 Propelled by Earhart's Lift
Forget a quinceañera – Angela Rivera dispensed with the expensive 15th birthday party that is a popular tradition for girls in many Hispanic cultures.
Instead, had her parents used the money they would have spent on that coming-of-age bash to send her on a solo vacation to the Smithsonian Institute in Washington, D.C. There she learned about Amelia Earhart, the first female aviator to fly alone across the Atlantic Ocean, accomplishing the 14-hour feat back in 1932.
Rivera had been fascinated with planes since she took her first flight from her native Puerto Rico to Orlando's Disney World at age three. But her parents tried to dissuade her from being a pilot, preferring she go into medicine or law.
However, once she saw the Earhart exhibit, her vision of her future career path took flight, eventually landing her at MDC.
"Everyone had told me that women shouldn't be pilots," said Rivera, 26. "But when I saw Earhart, I said, 'Yes! I can do this!'"
Inspired by that courageous voyage, Rivera ventured forth herself to earn the 2016 Aircraft and Owners Pilots' Association Scholarship, which was made possible by a donation from Gretchen Harper, whose late husband was a pilot.
There were roughly 700 scholarship applicants from around the country, and Rivera was one of only 15 selected. She was the only winner from Florida.
Rivera, who attends MDC's Eig-Watson School of Aviation and aspires to become a commercial pilot, said her grandfather, long-time American Airlines employee Mario Ramírez, has always encouraged her above-the-clouds dreams.  
At MDC, she has been mentored by many professors, including Tim Schmelzer and Stewart Pulley, and she's logged 30 hours in the air.
"All the professors are dedicated to helping their students become whatever it is they want," Rivera said. "Whether it is a pilot or an air-traffic controller or something else, they are here for you."
— WV
More Making Their Mark Articles