---
Making Their Mark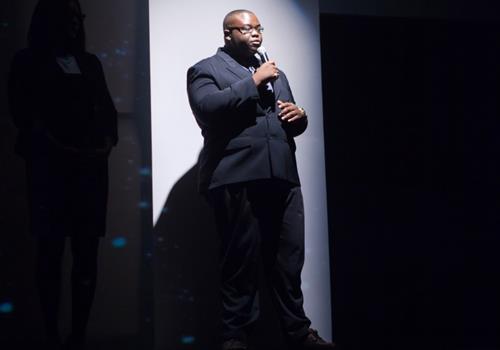 Better Today Than Yesterday
Trevaris Coleman, a 22-year-old MDC North Campus student, knows how to grab the attention of his audience.
Speaking at the North Campus Convocation in August, Coleman provided a jarring opening line: "Statistics show that it is more likely for me to be dead or in jail than to be standing right here before you today," he said. "Plot twist: I am the president of a student organization called Minorities of the Future."
Coleman, a psychology major who is on track to complete an associate degree in May, credits MDC's culture of diversity for inspiring him to join Minorities of the Future, a relatively new club that has been around for less than five years.
Encouraged by his brother, Trevis Starks, Coleman walked into a Minorities of the Future meeting and was immediately impressed.
"I saw guys who looked just like me, but they were dressed up in suits and ties," Coleman said. "When I saw them, I thought: 'These guys mean business.'
"Then I heard them give a presentation about upcoming events, study nights and other things they had in motion. I knew this was what I was looking for – it was the perfect opportunity to join a club and a family."
It wasn't long before Coleman became vice president and then president of an organization that volunteers at the Overtown Youth Center and mentors high school and middle school students in conjunction with the 5,000 Role Models of Excellence Project.
The organization, which is open to all male minorities, meets every Friday at North Campus from 3 to 4 p.m. in Room 2158.
A natural problem solver, Coleman wants to work as a marriage counselor or perhaps do something to help children. He's already looking at bachelor's programs around the state that will enable him to reach that goal.
His more immediate focus is to use his organization's human resources to help black and other minority students improve their graduation rates at MDC, which has a great, nationally acclaimed track record in college student graduation completion that just keeps getting better.
Minorities of the Future, Coleman said, is a "brotherhood of young men with different struggles but the same end goal: to be better today than we were yesterday."
— WV
More Making Their Mark Articles