---
Making Their Mark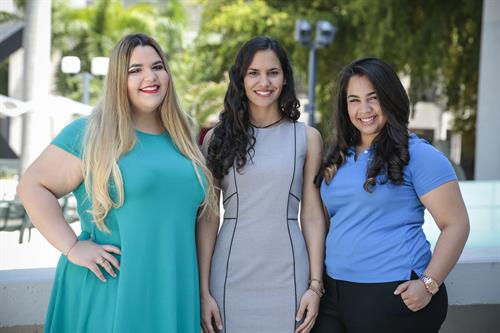 Gilman Adventurers Bring Lessons Home
Earlier this year, MDC students Julie De León, Paola Rodríguez and Ismarais Ochoa took center stage in the national spotlight by each winning a coveted Benjamin A. Gilman International Scholarship. The award goes to outstanding scholars with the aim of diversifying the kinds of students who study and intern abroad, and the countries and regions where they go. The scholarship enables study abroad for U.S. undergraduates who might otherwise not be able to participate due to financial constraints.
The Gilman Scholarship Program is sponsored by the Bureau of Educational and Cultural Affairs of the U.S. Department of State. Much as Miami Dade College enhances global understanding through its unique student body hailing from more than 190 countries, the Bureau of Educational and Cultural Affairs fosters mutual understanding between the people of the United States and the people of other countries to promote friendly, sympathetic and peaceful relations.
The trio's adventures, noted below, show how very important this scholarship is for broadening participants' understanding of the world and helping create global citizens.
Four Weeks Steeped in Renaissance Culture
Florence, Italy, the birthplace of the Renaissance, was a whirlwind ride for recent MDC graduate Julie de León, who visited 19 museums in one 72-hour span, soaking up every bit of culture she could.
De León, a 21-year-old native of Miami who is now studying nursing at the University of South Florida, is grateful for the time she got to spend abroad thanks to the Gilman Scholarship award, which she learned about while studying at MDC's Hialeah Campus, where she maintained a 4.0 GPA while also serving as president of her campus' chapter of the Phi Theta Kappa honor society.
"Miami Dade College helped me so much," she said. "My professors motivated me and helped me strive to get good grades. They prepared me for the next step."
De León spent her high school years in Panama after her parents decided to move there, but she always knew she wanted to come back to Miami.
"I knew Miami Dade College was a stepping stone to whatever dreams people have."
Hers is to become a nurse who travels and works internationally.
When MDC Professor Dr. Carlos Ruíz talked to her about the Gilman award, De León seized that chance, studying Italian during her four weeks in Florence. She also visited Rome and Pisa.
In the spirit of Italian explorers like Marco Polo, Amerigo Vespucci and Christopher Columbus who ventured forth to understand their world, de Le-ón explored her host nation with gusto, seeing as much as she could in her limited time.
"I learned a lot," she said. "I will never forget that experience."
¡Ochoa's Olé!
Ismarais Ochoa, who is focusing her MDC coursework on veterinary medicine, recently complemented her U.S. academic pursuits with time spent in Seville, Spain, improving her Spanish. She also toured Portugal during her two weeks of classes in the Iberian Peninsula.
Given her financial situation, this insightful study abroad time would never have been possible for her had it not been for the Gilman Scholarship award.
"I had always wanted to go to Spain," said Ochoa, a 20-year-old Miami native. "There are certain things you can't just learn in a classroom – you have to be there."
Ochoa, who has attended classes at MDC's North and Hialeah campuses, has a 3.2 GPA and is set to graduate by the fall of 2017.
After MDC, she plans to complete a bachelor's degree, followed by four more years of intensive study in veterinary school.
She had originally wanted to study law. But while in high school at Mater Lakes, Ochoa did community service at the Hialeah Gardens Animal Hos-pital that changed her life.
Ochoa ended up volunteering for more than 500 hours at the hospital. She then enrolled at MDC with the intention of transforming her new passion into her future career.
"Once I started volunteering at the hospital, it just clicked," Ochoa said. "I knew that I wanted to have my own animal clinic one day."
Now, having returned from Spain, she will bring a new global perspective to her work here in Miami and her studies at MDC.
Aiming for Perfection, Down to the Wire
A stickler for details with a knack for profiting from the adrenaline rush of deadlines, Paola Rodríguez has often waited for the 11th hour to complete life-changing projects.
The first time it happened was after she had graduated from Reagan/ Doral Senior High School, where she had been an honors student.
"My best friend convinced me to apply for MDC's Honors College," Rodríguez said. "I refined the last line of the application on the last day, 25 minutes before midnight."
She not only got into MDC but also graduated with a 3.65 GPA.
While in The Honors College, Rodríguez applied for the Gilman award, waiting until one minute before midnight to submit her essay.
"I changed the first sentence more than 1,000 times," said the 20-year-old native of Puerto Rico. "I wanted it to be perfect."
And it was, earning her a Gilman scholarship, which she used to study anatomy and physiology in Florence for a full month.
Ultimately, she wants to be a nurse practitioner with her own clinic focused on women's health.
Crediting InterAmerican Campus Professor Diego Tibaquirá as her  main mentor, she said, "Because of MDC, I never felt alone. I always had professors to help me."
More Making Their Mark Articles