---
Powerful Partnerships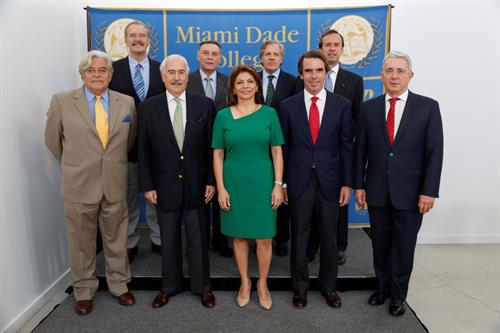 World Leaders Gather at MDC
Former presidents, heads of state and regional leaders recently convened at MDC to discuss the state of democracy and human rights in the Americas during an impactful two-day conference.
The events included the inaugural program for the Mezerhane Endowed Chair at Miami Dade College in which panelists discussed democratic tensions in the Americas and Spain, moderated by Carme Chacón Piqueras, Spain's former minister of defense and professor in residence at MDC.
As part of ¿Democracias bajo amenaza? on Day 2, panelists highlighted current democratic challenges in Venezuela and Nicaragua, followed by a press conference with former heads of state and presidents in MDC's National Historic Landmark Freedom Tower to discuss the state of democracy in the Americas region as a whole.
In attendance were numerous world leaders, including former Prime Minister of Spain José María Aznar, former Costa Rican President Laura Chinchilla, former Colombian Presidents Andrés Pastrana and Álvaro Uribe, former Bolivian President Jorge Quiroga, former Uruguayan President Luis Alberto LaCalle, former Mexican President Vicente Fox, and former Ecuadorian President Jorge Jamil Mahuad Witt along with Luis Almagro, secretary general of the Organization of American States (OEA).
Joining these international dignitaries to discuss the current political and economic situation in the region were luminaries in education and journalism, including Grupo Mezerhane Chairman Nelson J. Mezerhane and Asdrúbal Aguiar, executive director of Iniciativa Democrática de España y Las Americas' (IDEA).
— AMS
More Powerful Partnerships Articles