---
Powerful Partnerships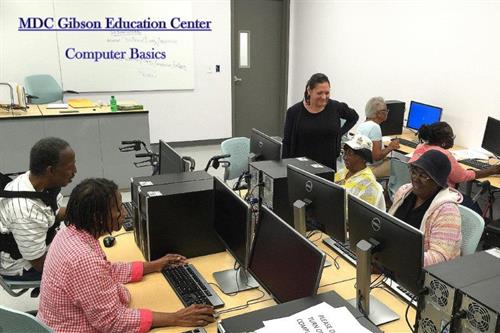 Gibson Center Reaches Students in Their Homes
A complete slate of classes tailored to help people who are seeking professional advancement and personal enrichment is now being offered at Miami Dade College's new Gibson Education Center.
"We have courses that fast track the training and skills people need to get right into good-paying careers, or to move up in their current career," said David Lotker, Wolfson Campus chair for MDC's School of Continuing Education and Professional Development. Additional offerings, including GED test preparation, business management, English classes and preparation for the food handler safety certificate, are available, with drawing and digital photography soon to follow.
The Gibson Education Center is a collaborative project of MDC's School of Continuing Education and Professional Development and Gibson Plaza in West Grove. Gibson Plaza is a new apartment complex that consists principally of affordable housing for seniors. The structure was built by Pinnacle Housing, which specializes in high quality, affordable housing. The Gibson Education Center also receives operating support from the Mitchell Wolfson Sr. Foundation, which has been a strong supporter of Miami Dade College since its founding more than five decades ago. Civic leaders Thelma Gibson and her late husband Theodore acquired the land for Gibson Plaza and wanted an educational facility to be part of the development. Gibson Plaza provides space for three classrooms and a computer lab on the ground floor of the sleek residential complex.
"This situation is pretty remarkable," Lotker said. "You have our educational facility right on the ground floor of a large apartment building. Many of our students live in the apartments above or come from the community. Some of our most popular courses are computer skills for people over 55 and Spanish, along with certification programs for notary publics and tour guides."
More Powerful Partnerships Articles