---
Powerful Partnerships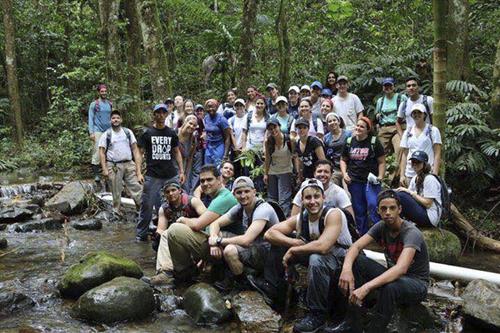 On a Blue Mission
For the fortunate, clean drinking water can be had in seemingly unlimited supply with the twist of a faucet. However, this U.S. norm is a luxury elsewhere. The World Health Organization states that at least 1.8 billion people across the globe use a contaminated drinking water source, and by 2025 half of the world's population will live in water-stressed areas.
To help in one small corner of the planet, 10 students in the Dual Language program of The Honors College at MDC's InterAmerican Campus lent a hand recently in a small village in the Dominican Republic that had never had clean running water. Their group, called "Agua Es Vida" ("Water is Life"), teamed up with Blue Missions, a nonprofit dedicated to addressing the global water crisis, to organize a service learning project that brought water to the Dominican town.
"These motivated, energetic students wanted to develop themselves beyond their academic skills," said Magda Castaneyda, director of the Dual Language program at The Honors College and the group's advisor. "As part of the Honors College colloquium series last fall, we brought in Blue Missions, and one student, Alexa Jauregui, became a liaison to them. Things took off from there."
Work on the project began with a variety of fundraising efforts and culminated in May with an 11-day trip to the Dominican Republic, where the students, working with Blue Missions facilitators, constructed a rudimentary aqueduct that brought fresh water from a mountain stream to the small village of Las Rosas for the first time. 
"Working alongside the Dominican community has taught me to live in the moment and truly be grateful for the opportunities I have been given, especially traveling and working with Blue Missions," said Jauregui. "My work with them has been both life-changing and life-shaping. My experience has absolutely changed my life for the better, and I am honored and blessed that I have been able to share my experience with the Honors College."
More Powerful Partnerships Articles