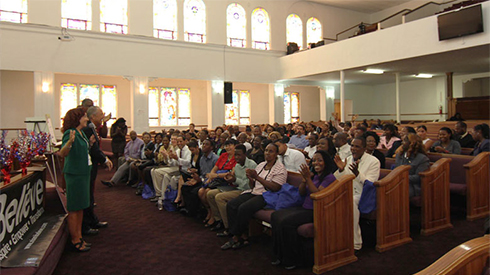 Our Mission
To improve the quality of life in underprivileged and inner city areas within Miami and beyond through targeted and customized workforce training and gainful employment supported by holistic services to enable sustainability.
What We Do
The Hospitality Institute is a workforce development initiative designed to provide inner city residents with a bridge to job opportunities in the local hospitality industry.
Providing training, encouragement and jobs, the Hospitality Institute is turning lives around while supporting the workforce needs of the local hospitality industry. Striving to break the cycle of poverty, Hospitality Institute is a beacon of hope in the heart of Miami's inner city.
The Institute operates four‐five day programs four times a year, at the Greater Bethel A.M.E. Church in Overtown. Community outreach organizations screen and recommend participants from their programs. Participants are exposed to various hospitality/restaurant operations, customer service, application and resume preparation, interview skills, basic computer skills and general employment information. Training is provided by instructors from Miami Dade College, and many local businesses, as well as other passionate volunteers. In addition participants are offered training and certification in food handler certification.
Contact is maintained with all graduates who are encouraged to visit the office of the Hospitality Institute to view new job postings that are received weekly. They also receive personal mentoring and counseling to keep them motivated not only to find a job but to enroll in courses at Miami Dade College to improve their work skills.
Myriad community organizations lend tremendous support to the Hospitality Industry, adding to its success. These include local businesses, non‐profits outreach organizations, educational institutions, government agencies and volunteers. Connecting our community we are bridging the gap to opportunity.
The Institute is funded through grants from the CRA-Southeast Overtown/ParkWest and Community Redevelopment Agencies of the City of Miami.
In the News
The Hospitality Institute launches in Orlando
The Hospitality Institute at Miami Dade College Receives Grant from Hilton Hotels to Enhance Workforce Training Program