About Jazz at Wolfson Presents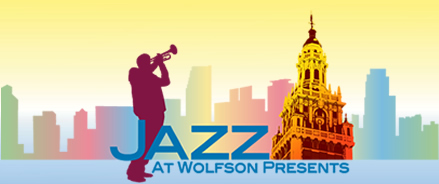 Jazz at Wolfson Presents is the longest continuously running jazz series in Miami-Dade County, offering a free, year-long jazz concert series to residents, students and music lovers of all ages. The series was founded in 1998 by jazz studies professor Dr. Michael Di Liddo and inspired by MDC's Lunchtime Lively Arts concert series of the 1970s.
Running from September through April, Jazz at Wolfson Presents has featured live performances by world-renowned jazz artists such as bassist and Jazz Humanitarian Award winner Rufus Reid; saxophonist and educator Jamey Aebersold, an inductee into the International Association for Jazz Education's Jazz Hall of Fame and recipient of a 2014 National Endowment for the Arts Jazz Masters Award; four-time Grammy-nominated guitarist Mike Stern; and saxophonist James Moody, a National Endowment for the Arts Jazz Master. Additional artists include drummers Nate Smith, Ed Soph, Adam Nussbaum and Danny Gottlieb; violinist Sara Caswell; saxophonists Eric Alexander, Don Braden, Richie Cole and Bobby Watson; trumpeters Ira Sullivan, Brian Lynch, Barry Ries, Terell Stafford and Jim Rotondi; pianists Dan Haerle, Mike Gerber, Andy LaVerne and David Hazeltine; bassists Lynn Seaton, John Goldsby and David Friesen; guitarists Randy Bernsen and Dave Stryker; B-3 organist Dr. Lonnie Smith; vibraphonists Dick Sisto and Chris Dingman; and vocalists Angela Hagenbach, Wendy Pedersen and Kate Reid. Voluntarily investing their expertise and inspiration in the present and future cultural life of Miami-Dade County, visiting jazz artists also conduct workshops and master classes for MDC music students. The series features a range of jazz styles, including swing, hard bop, cool, modern, Latin, fusion and avant-garde.
Distinguished members of MDC's jazz music faculty often perform with the guest artists. The five-member Jazz Faculty Quintet includes Ed Calle, saxophone; Mike Di Liddo, guitar; Jim Gasior, piano; Gary Thomas, bass; and Rodolfo Zúñiga, drums.
This series is produced by the Wolfson Campus Arts and Philosophy Department, which is responsible for all program logistics. It is funded, in part, through the Hannibal Cox Jr. Cultural Grants Program of Miami-Dade County. Concerts are held in the state-of-the-art, 440-seat Wolfson Auditorium, Suite 1261, in Building 1 at MDC's Wolfson Campus, 300 N.E. Second Ave., Miami.
Contact Information
For more information, please call 305-237-3930