About Jazz at Wolfson Presents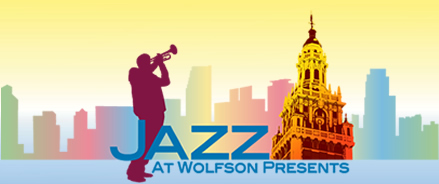 Jazz at Wolfson Presents at Miami Dade College is proud to be the longest continuously running free jazz series in Miami-Dade County. This yearlong program, which is open to the public, offers musical performances to students and music lovers of all ages. The series was founded by jazz studies professor Dr. Michael Di Liddo and inspired by MDC's Lunchtime Lively Arts concert series of the1970s.
"When we began, the idea was to offer something to the jazz students that they weren't getting from our classes," Di Liddo said. In addition to studying jazz, he thought it was important for students to experience quality jazz performances and receive input from jazz musicians active in performance careers. "The best way I saw that happening was to bring jazz artists to the campus to perform and give workshops to our students."
Jazz at Wolfson Presents has featured live performances by many world-renowned jazz artists since its inception, including bassist and Jazz Humanitarian Award winner Rufus Reid; four-time Grammy-nominated guitarist Mike Stern; National Endowment for the Arts Jazz Master saxaphonist James Moody and Jamey Aebersold, saxophonist and National Endowment for the Arts Jazz Master.
This year's performances, which take place from September through April, include notable acts such as celebrated jazz pianist Tal Cohen; guitarist Sheryl Bailey, hailed among the best bop guitar players by Just Jazz magazine; and renowned B-3 organist Bobby Floyd, who traveled and performed with the late Ray Charles.
To enhance the series' educational offerings, musicians voluntarily invest their expertise, conducting workshops and master classes for MDC students. The series features a range of jazz styles, including swing, hard bop, cool, modern, Latin, fusion and avant-garde.
Distinguished members of MDC's jazz music faculty often perform with the guest artists. The five-member Jazz Faculty Quintet includes Mark Small, saxophone; Mike Di Liddo, guitar; Jim Gasior, piano; Gary Thomas, bass; and Rodolfo Zúñiga, drums.
This series is produced by the Wolfson Campus Arts and Philosophy Department and is funded with the support of the Miami-Dade County Department of Cultural Affairs and the Cultural Affairs Council, the Miami-Dade County Mayor, and the Board of County Commissioners through the Hannibal Cox Jr. Cultural Grants Program. Concerts are held in the Wolfson Auditorium, Suite 1261, in Bldg. 1 at MDC's Wolfson Campus, 300 N.E. Second Ave. Miami, FL 33132.
Contact Information
For more information, please call 305-237-3930