About Jazz at Wolfson Presents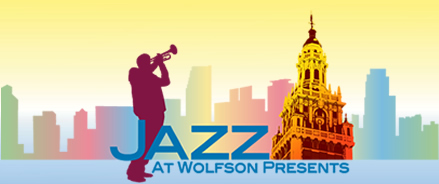 Jazz at Wolfson Presents at Miami Dade College is proud to be the longest continuously running jazz series in Miami-Dade County, offering free yearlong jazz concerts to students and music lovers in the community. The series was founded by jazz studies professor Dr. Michael Di Liddo and inspired by MDC's Lunchtime Lively Arts concert series of the1970s.

"When we began, the idea was to offer something to the jazz students that they weren't getting from our classes," Dr. Di Liddo said. In addition to studying jazz, he thought it was important for students to experience quality jazz performances and receive input from jazz musicians active in performance careers. "The best way I saw that happening was to bring jazz artists to the campus to perform and give workshops to our students."
Jazz at Wolfson Presents has featured live performances by many world-renowned jazz artists since its inception, including bassist and Jazz Humanitarian Award winner Rufus Reid; four-time Grammy-nominated guitarist Mike Stern; National Endowment for the Arts Jazz Master saxaphonist James Moody and Jamey Aebersold, saxophonist and National Endowment for the Arts Jazz Master.

This year's performances, which take place from September through April, include notable acts such as trumpeter, vocalist and 2017 JUNO Vocal Jazz Album of the Year recipient Bria Skonberg; trumpeter Amir ElSaffar, known for his mastery of combining Middle Eastern musical languages with jazz and other styles of contemporary music; and saxophonist and educator Mark Colby, who has performed with the Chicago Symphony Orchestra and at numerous notable jazz festivals.

To enhance the series' educational offerings, musicians voluntarily invest their expertise, conducting workshops and master classes for MDC students. The series features a range of jazz styles, including swing, hard bop, cool, modern, Latin, fusion and avant-garde.
Distinguished members of MDC's jazz music faculty often perform with the guest artists. The five-member Jazz Faculty Quintet includes Ed Calle, saxophone; Mike Di Liddo, guitar; Jim Gasior, piano; Gary Thomas, bass; and Rodolfo Zúñiga, drums.

This series is produced by the Wolfson Campus Arts and Philosophy Department and is funded, in part, through the Hannibal Cox Jr. Cultural Grants Program of Miami-Dade County. Concerts are held in the Wolfson Auditorium, Suite 1261, in Building 1 at MDC's Wolfson Campus, 300 N.E. Second Ave. Miami.
Contact Information
For more information, please call 305-237-3930