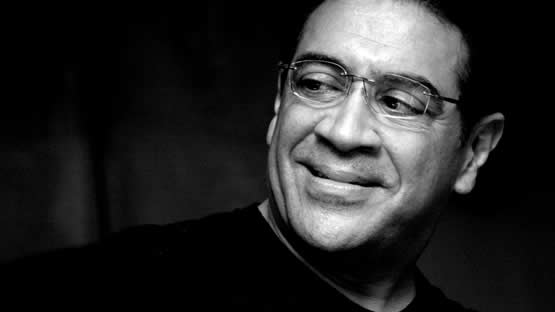 Sammy Figueroa
Latin Percussion
Wednesday, October 12, 2016, Noon
Wolfson Campus Auditorium
300 N.E. Second Ave., Miami, FL 33132
Building 1, Room 1261
Percussionist Sammy Figueroa is considered one of the world's great musicians. In a career spanning over 30 years, he has played with Miles Davis, Sonny Rollins, the Brecker Brothers, Mariah Carey, David Bowie, John McLaughlin, Arturo Sandoval, Paquito D'Rivera, Chaka Khan, Blues Traveler, Ashford and Simpson, Natalie Merchant and countless others. He has also co-produced several albums, most notably the Cuban a cappella group Vocal Sampling.
His band, Sammy Figueroa and his Latin Jazz Explosion, is one of the most dynamic in jazz today. Known for exciting performances, enhanced by Sammy's ebullient humor, the band has recorded two albums, And Sammy Walked In and The Magician, both honored with the Grammy nomination for Best Latin Jazz Album. Figueroa is also a popular radio host: The Sammy Figueroa Show airs out of South Florida's WDNA-FM and can be heard every Monday from 11 a.m. to noon, streaming worldwide on www.wdna.org.
Figueroa is currently appearing in the band of saxophone colossus Sonny Rollins. In September 2010, he performed at Rollins' 80th birthday celebration at the Beacon Theatre, and in 2010 and 2011, he appeared with Rollins in Japan, Australia, several countries in Europe and the U.S. In 2010, Figueroa signed with Senator Entertainment AG, one of Germany's largest media companies. His third album, Urban Nature, was released in 2011.