---
Academics
Series explores religion, economy, mortality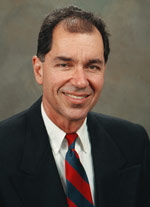 Dr. Paul George
A mix of perspectives, research and explorations continue to heat up the award-winning Social Science Lecture Series at Miami Dade College's Wolfson Campus. This month's line-up features engaging discussions on religion, the impact of the economic meltdown on foreign affairs and age-related conceptualizations of death.
Dr. Paul George's "Downtown: Yesterday, Today, and Tomorrow (A Walking Visit to Historic Gesu Church)," launches the month's interactive topics on Dec. 1 at 9 a.m. in Room 3330. George, a historian for the Historical Museum of Southern Florida, has toured his way to local, national and international acclaim with his continuing series of historic tours.
As a South Florida native, author and MDC professor of history, George has gained fame for his uncanny ability to bring to life the most impressive details that make South Florida so unique.
If a taste of yesterday isn't your cup of tea, then turn your attention to Dr. Germán Muñoz as he discusses what no mainstream news organization is acknowledging. "America has been a global power for a long time, involved in places ranging from South Korea to the Middle East," said Muñoz, Wolfson Campus' social sciences department chair. "However, as a country we are now broke and many creditor countries are having second thoughts about buying our debts because the dollar is declining in value."
Muñoz, a professor of international relations, will address a series of questions. How do we finance our objectives abroad as a country now under financial distress? How does this economic meltdown impact our foreign relations and ability to do business? Will other countries want to invest in us as we have invested worldwide?
His "American Foreign Policy Challenges in Asia and Africa" is scheduled for 5:40 p.m., Dec. 1 in Room 3329. "American Foreign Policy Challenges in Europe and the Americas" is scheduled for 5:40 p.m., Dec. 8 in the same location.
The series will present "A Developmental Perspective on Death and Dying" by Dr. James Rosado, on Dec. 9 at 8:25 a.m. in Room 3416. Rosado, an associate professor of psychology, will lead a compelling, 75-minute discourse centered on death, and how it is viewed by children, teenagers, and young and older adults.
This interactive program will cover research findings such as those that explain how children process death as well as the influences of death anxiety among age groups.
The Social Science Lecture Series, in existence since 1983, has been recognized by the Florida Association of Community Colleges as a model that stimulates faculty research, student engagement and community outreach. For more information on the lecture series, please call 305-237-3660.
— Lourdes Rodríguez-Barrera
More Academics Articles