---
Alumni News
Alumna: international business leader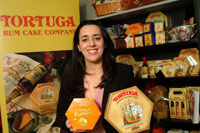 Monique Hamaty-Simmonds
Monique Hamaty-Simmonds is a second generation entrepreneur.
She is the managing director of Tortuga Rum Co., the largest duty-free liquor business in Grand Cayman, and the president and CEO of Tortuga Imports Inc., also known as the Tortuga Rum Cake Co., the Miami-based company that handles Tortuga Rum's worldwide distribution, mail order and online sales.
Hammaty-Simmonds' parents, Robert and Carlene, founded Tortuga Rum Co. in 1984 while they were both employed by Cayman Airways. While piloting for Air Jamaica, Robert Hammaty noticed passengers boarding his plane carrying Bermuda Rum, which was actually made in Jamaica and shipped to Bermuda to be bottled. He decided the Cayman Islands should have its own rum and founded the family business.
Hammaty-Simmonds has been instrumental in opening new markets and building the company's international brand. Today, Tortuga Caribbean Rum Cakes are the number one export of the Cayman Islands and have been named 2008 "Best Cruise Souvenir" for the fourth consecutive year. The cakes are sold in gift stores, specialty food departments and gourmet stores, on more than 100 cruise ships, via mail order and online at www.tortugarums.com.
In 2002, she and her husband, Marcus Simmonds, the chief financial officer for Tortuga Imports, were recognized by Gourmet News with the prestigious biennial "20 Under 40 Award." She was a finalist for South Florida Business Journal's 2007 Businesswoman of the Year Awards. DiversityBusiness.com, the nation's primary online resource portal for multicultural business information, named the Tortuga Rum Cake Co. one of the "top 100 diversity-owned businesses" in Florida.
Most recently, the company was recognized by Inc. magazine as one of the fastest-growing private companies in the U.S. for the second consecutive year.
Hamaty-Simmonds and husband currently live in Grand Cayman with their three young children, Jayda, Nadia and Brandon.
— Staff report
More Alumni News Articles