---
College Notebook
Passion for Education and the Community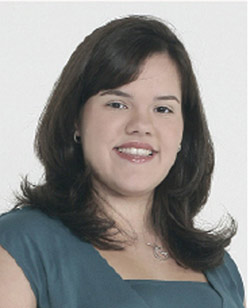 Odalys Solares moved to the United States from Cuba in 1998 with her parents and brother. The experience served to instill the importance of family to the young woman.
When she graduated from G. Holmes Braddock High School only a few months after turning 17, she decided against leaving Miami – despite being considered by peers and teachers as "mature for her age."
"I did not feel ready to leave," she said.
The Honors College proved a perfect fit for the academically advanced student. With a 3.94 GPA and a wealth of extracurricular activities ranging from Future Business Leaders of America to the community service club on her résumé, she found that Miami Dade College offered her opportunities that no other institution could.
"I researched my transfer options and found that MDC offered me a better chance of transferring to a Top 100 university. And they focused on making the transition easier," Solares said.
"In addition, The Honors College provided me a challenging environment where I could excel academically while continuing to be active in the community," she added.
And the accounting student is excelling. In 2007, she studied abroad in England and France and is about to set off on a second study abroad trip to Italy. Her collegiate plans include a bachelor's degree in accounting and a corporate or tax law degree.
While she says that occasionally it is difficult to balance her studies with her activities and her personal life, she values being recognized as a leader on campus and credits Phi Beta Lambda business fraternity with helping her become the active, responsible and organized student she is today.
"Being a part of Phi Beta Lambda has truly changed who I am and given me tremendous opportunities to network with respected community leaders," she said.
— Katherine Adjemian
More College Notebook Articles