---
Features
Oral History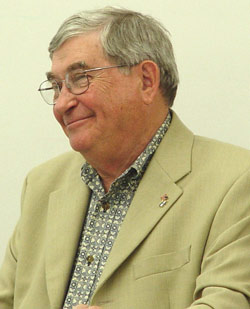 David Mermelstein
History was brought to life for students in Randy Kaufman's History of the Holocaust class at Homestead Campus when a survivor of the Holocaust shared his story.
Retired Miami businessman David Mermelstein spoke of the horrors of Auschwitz and the pain of being the only member of his immediate family to survive Adolf Hitler's systematic extermination of European Jews. It is estimated that 4 to 6 million Jews, and approximately 5 million others, were killed during the Holocaust.
Mermelstein's visit offers one example of what professors at all campuses are doing to provide students with well-rounded learning experiences. Mermelstein is one of four survivors to visit the class.
"It has been truly awe-inspiring to have David and three other survivors visit with my class," Kaufman said. "As word of the course has spread, I have faculty, staff and non-MDC folks who want to be part of the effort."
On the last day of class, Kaufman said, a staff member's father, who helped liberate a concentration camp at the end of World War II with the U.S. Army, will tell his story. "This course just gets more special over time," Kaufman said.
In 1944, when Mermelstein was 15, he was deported to Auschwitz. His first memory of the Polish camp was the selection conducted by Dr. Josef Mengele. Mermelstein survived Auschwitz and several other concentration camps until his liberation by American forces on the last day of the war.
Mermelstein spends much of his time speaking to children and groups about his experiences. With great humility and surprising wit, he talked to the Homestead class for nearly two hours and answered many difficult questions.
When asked how he survived, he said he had a guardian angel, some very good luck and the will to make it to the next day.
Mermelstein has long been an advocate for the survivor community in Miami and was a key member of the team that won the 2005 Gold Train restitution case, which brought compensation to families whose valuables were stolen by the retreating German forces in 1945 and eventually captured by American forces in Austria at war's end. For half a century, those assets were never returned.
As part of the settlement, needy and destitute survivors receive small monetary allotments.
He admitted to having mixed feelings about suing the U.S. government, as he acknowledged his great thanks for its sanctuary and allowing him a place where he had the ability to prosper.
But asking for an apology and recovering some of the value of the art was "the right thing to do," he explained.
"David Mermelstein's memories have been a great help in gaining more knowledge on the history of the Holocaust," said student Ana De La Cruz, a 20-year-old psychology major at Homestead Campus.
— Emily Adams
More Features Articles