---
Alumni News
Web Extra: Committed to Civic Engagement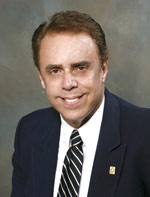 Denis Rod
Alumnus Denis Rod has spent his adult life giving back to the community he loves.
From 1978 to 1981, he served on the board of Project A.I.S.P. (Arts Instructions for Special Population). He was a member of the city of Miami Planning Advisory Board for four years, and once served as its co-chair. From 1999 to 2002, he was a member of Miami's Code Enforcement Board. Currently, Rod is a board member of The Jay Malina International Trade Consortium of Miami-Dade County. Through the years, he has been appointed by different mayoral administrations to serve on the greeting committees for the visits of Pope John Paul II, Queen Elizabeth of England, and Spain's King Juan Carlos, Queen Sofia and Crown Prince Felipe.
Among his philanthropic works are donation and distribution of children bicycles for charities sponsored by Ocean Bank and the Latin Builders Association. He worked from 1989 to 1995 on Habitat for Humanity projects in Homestead and Overtown. Rod is an active participant of the Latin Chamber of Commerce Holiday Food Distribution and the St. Vincent de Paul Catholic Charity. In the 70s, he was a member and past president of Miami Dade College's North Campus Amigos Club, an organization formed by the College to help with the acclimatization of foreign students to our area.
He has received Certificates of Appreciation and Proclamations from Miami-Dade County, the city of Miami, the city of Sweetwater and many others. On Nov. 19, 2007, the state of Florida presented him with a tribute for his exceptional service to his community.
More Alumni News Articles