---
College Notebook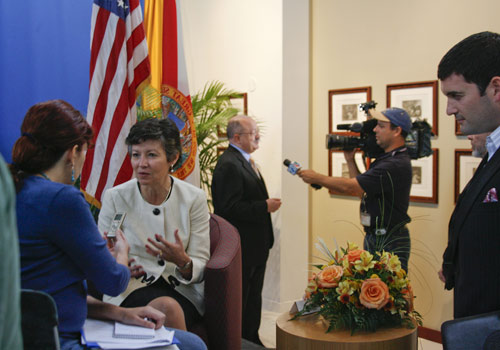 Focus on Academic Achievements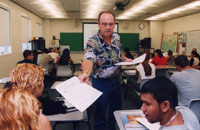 Natural Sciences professor Chris Migliaccio incorporates a broad range of Learning Outcomes in his biology and environment classes.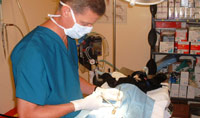 The Humane Society's Sofer and Fine Adoption Center became a training gound for students in the Medical Center Campus.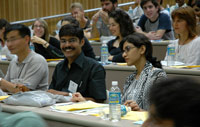 International scholars came together at MDC for the annual Fulbright Gateway Orientation program.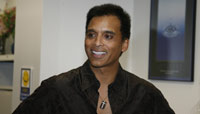 Grammy winner Jon Secada returned to MDC to teach a master class in music at Kendall Campus.
In a year of milestones, faculty-led academic initiatives stand out as some of the most significant achievements at Miami Dade College.
Chief among those was the adoption and implementation of the Learning Outcomes.
During the course of their studies at MDC, students will combine curriculum-specific learning and develop a broad range of skills that can be applied in all facets of their education.
The College held a special covenant signing ceremony in recognition of its commitment to the Learning Outcomes.
Sara Martínez Tucker, the U.S. under secretary of education, witnessed the signing ceremony with College trustees, administrators, faculty members, students and area business leaders.
Curriculum Concerns
This year, the College also committed itself to improving student success in mathematics. In addition to joining the national Math Across the Community College Curriculum initiative, MDC also became a part of the Algebra Project.
Dr. Robert "Bob" Moses, a legendary Civic Rights leader, is the founder of the Algebra Project, a nationally revered school reform measure. Moses began teaching a developmental class at InterAmerican Campus.
Continuing its commitment to produce industry-ready professionals, MDC's Veterinary Technology program partnered with the Humane Society of Greater Miami/Adopt-A-Pet's Soffer and Fine Adoption Center to offer students hands-on experience in the field of animal care.
In other science-related news, MDC's recently launched biotechnology program provides a pipeline of well-equipped graduates to the burgeoning biotechnology industry. Initial response from community leaders and students was overwhelmingly positive.
"We're very excited about the momentum the program has generated," said Dr. Heather Belmont, chair of North Campus' department of biology, health and wellness. "From College students and faculty members to regional businesses and media outlets, we're attracting a lot of attention."
A Model Institution
Also this year, the College received some noteworthy praise in the annual Community College Survey of Student Engagement (CCSSE). MDC scored well above average in all performance areas. In recognition of this, the CCSSE showcased the College as a model institution.
Especially praiseworthy were MDC's ratings in the active and collaborative learning category. There, faculty members reported a large increase in students' contributions to classroom discussions. Other elements of the CCSSE survey assessed the quality of education students feel they are receiving. The responses in this area were overwhelmingly positive.
"The survey provides an objective reference point to substantiate the tremendously positive perception of the College among students, faculty members and the broader community," said Dr. Norma Martín Goonen, provost for academic and student affairs.
The College celebrated the launch of its third baccalaureate degree program, the Bachelor of Science in Nursing. The new program offers an unparalleled ease of transition for students in the College's associate in nursing program. The program, which responds to a statewide need for nursing professionals who have been trained up to the bachelor's level, cultivates ties to local hospitals and health providers enticing graduates to remain in South Florida when they complete their studies.
Forging Ahead With Technology
In the classroom, professors are integrating cutting-edge technology to increase student success.
English professor Louis Molina regularly posts podcasts on Apple's iTunesU. Students can download the podcasts – which can include lectures – and access them on their personal computers or iPods.
In the schools of Nursing and Education, a new electronic tool – the tablet PC – was given to 85 students in a pilot study. Beyond note-taking, the tablet PCs gave students an easy option to download presentations while in class, record lectures and review electronic textbooks.
Faculty members described the primary benefit as the ability for students to access complete notes from PowerPoint presentations electronically before every lecture, according to an institutional research study. They also felt it enhanced the students' ability to study because of portability.
Faculty Leaders
Each year, a committee of MDC faculty members honors a group of their colleagues with the Endowed Teaching Chair. The award recognizes faculty members for developing effective teaching strategies, demonstrating professional growth and making student learning their top priority.
Ten professors representing four campuses and the New World School of the Arts were chosen.
Among the honorees was North Campus professor Isabel Rodríguez-Dehmer, who used what she describes as "eclectic pedagogical methods" to promote an interest and provide motivation to students in her reading classes.
Taking her lead from MDC's Honors College, Rodríguez-Dehmer incorporated symposiums, colloquia and leadership workshops into her curriculum. She also used new media that allowed students to track their own progress. "Students, in turn, become aware for their learning styles, study habits and reading interests, and tend to reflect on what it takes to learn," she said.
— Gariot P. Louima