---
College Notebook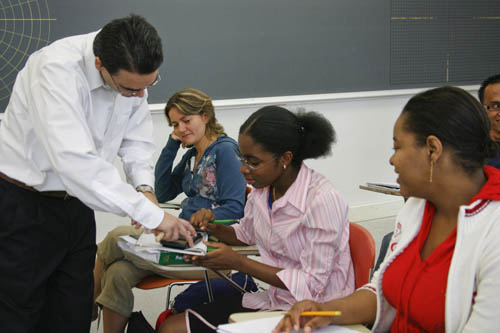 2008 Endowed Teaching Chair honorees
2008 Endowed Teaching Chair Honorees*
Dr. Luis A. Beltran
Professor, Mathematics, Kendall Campus
The Adorno & Yoss Employee Charitable Foundation Endowed Teaching Chair
15 years at MDC. Beltran incorporated the use of the Tablet PCs as a learning tool in his lectures. He also integrated WebCT as well as podcasts on MDC's iTunesU portal to provide additional support to his students outside of the classroom.
Dr. Alvio Domínguez
Associate Professor, Mathematics, Wolfson Campus
The Miami Dade College Endowed Teaching Chair in Engineering, Mathematics and Sciences
7 years at MDC. For the past five years, he has served as a coach and advisor for the Discovering Math Club, an organization dedicated to the discussion of topics in mathematics. The group also participates in math competitions and won second place in the 2008 Math Olympics.
Kenneth Lee
Associate Professor, Physical Therapy Assistant,
Medical Center Campus
The Robert Russell Memorial Foundation Endowed
Teaching Chair
11 years at MDC. Lee has been actively involved in the Campus Academic and Student Support Council, the MDC iTunes Project and the Medical Center Campus Health Fair. He also serves as co-coordinator for the Medical Center Campus Service Learning program.
Dr. Irene S. Lipof
Professor, Psychology, Wolfson Campus
The Daniel Gill Endowed Teaching Chair
31 years at MDC. She partnered with a college prep professor to establish intense learning communities that help students to improve literacy skills and build a core for college preparation by taking a human sexuality course in tandem with their developmental reading course.
Maria C. Mari
Professor, Business Administration, Kendall Campus
The Louis Wolfson III Endowed Teaching Chair
19 years at MDC. Mari is actively involved in advising student organizations, including the Kendall Campus chapter of Phi Beta Lambda, which returned from the 2008 Leadership Conference in Atlanta with nearly a dozen awards.
Alberto Meza
Professor, Arts and Philosophy, Kendall Campus
Bonnie McCabe Faculty Endowed Chair in the Humanities
17 years at MDC. See Endowed Teaching Chair story for highlights.
Dr. Cynthia M. Schuemann
Professor, ESL/Foreign Languages, InterAmerican Campus
The Citibank Endowed Teaching Chair
15 years at MDC. Schuemann was one of the lead authors on a grant proposal for the Accelerated Content-based ESL (ACE) Project. The College has been awarded funding for the five-year project consisting of a Title V grant to benefit Hispanic-serving institutions.
Dr. Sandra L. Schultz
Professor, Biology, Health and Wellness, North Campus
The Anastasios and Maria Kyriakides Endowed Teaching Chair
30 years at MDC. See Endowed Teaching Chair story for highlights.
*Only a sample of what the recipients achieved during the award period is presented here. "Years of Service" reflects the years of service as indicated on the faculty seniority list.
— Staff Report
More College Notebook Articles