---
Features
Freedom Tower recommended for national designation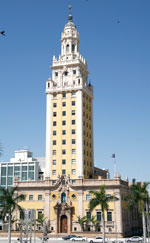 Freedom Tower
As the Freedom Tower moved closer to receiving designation as a national historic landmark, the transfer of ownership of the downtown Miami building from Pedro Martin and family to Miami Dade College was finalized.
The National Park System Advisory Board met recently in Washington, D.C., and voted unanimously to recommend the Freedom Tower at MDC for the national designation. The action sets in motion a review by the Department of the Interior. It culminates in a final determination by the U.S. Secretary of the Interior.
The Freedom Tower was the original home of the Miami News and the former Cuban Refugee Center, welcoming hundreds of thousands of Cubans to America's shores.
MDC has converted the structure into a cultural and educational center for the entire community.
Now a central venue for MDC's cultural affairs programming, the Freedom Tower will host four major exhibitions, including The Divine Comedy by Salvador Dali, a series of 100 prints that Dali created from 1951-1954 to celebrate the 700th birthday of the poet Dante Alighieri.
The Martin family announced the donation of the Freedom Tower to the College in November 2005.
The building, designed by George A. Fuller, Schultze & Weaver, has been listed in the Register for Historic Places since 1979.
— Staff Report
More Features Articles