---
Features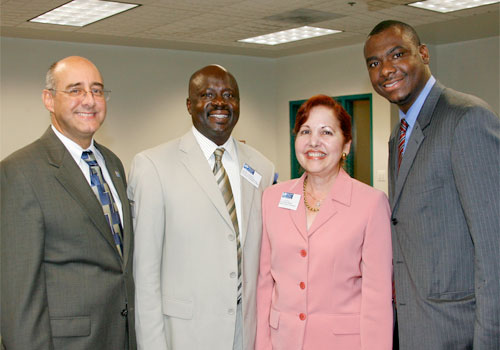 Program gives minority businesses a boost
The School of Business at MDC invited entrepreneurs from some of Miami's most underserved communities to participate in free training workshops designed to sharpen their business skills and broaden their knowledge.
Led by industry experts, the workshops are part of MDC's Minority Business Capacity Development Program, sponsored by the CitiFoundation. The workshops covered everything from tax planning and marketing to writing effective business plans, winning government contracts and securing financing.
"There is a significant gap between the knowledge required to successfully run a small business and the knowledge actually held by small business owners in Miami," said Dr. Ana Cruz, chair of the School of Business at Wolfson Campus. "This is the gap MDC aims to fill."
Any small business operating in Overtown, Liberty City, Allapattah, Little Haiti and Wynwood-Edgewater for at least one year was invited to register for the program. Florida Rep. Ronald  A.  Brisé, who sits on the state's Jobs & Entrepreneurship Council, attended the reception for program participants. He emphasized the importance of initiatives like this in opening doors for small businesses in South Florida.
Jane Zucker, MDC's program manager for minority business development, echoes the sentiment. "These are challenging economic times for our local business owners," Zucker said. "It's critical to stay current with business trends and to constantly make new connections – from customers, to suppliers, and sources of capital. This program is a very targeted, rapid-fire way for businesses to get help in key areas and maintain their competitive edge."
— Tarnell Carroll
More Features Articles